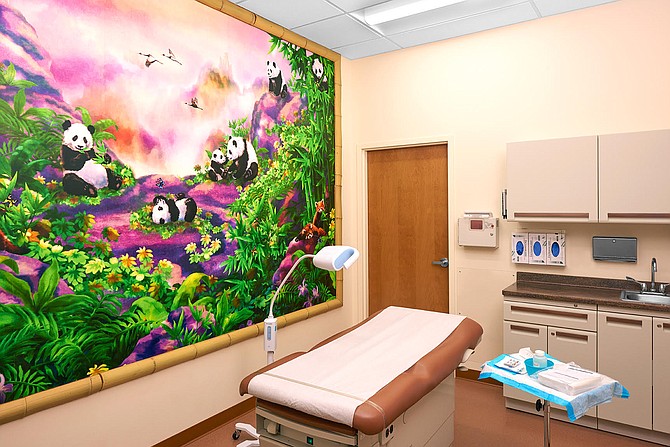 PM Pediatrics opened its newest location at 11056 Lee Highway in the Kamp Washington Shopping Center in Fairfax City on Nov. 20, 2019, marking its fourth location in Virginia and its 51st location nationwide. PM Pediatrics also operates offices in Ashburn, Reston/Herndon and Springfield.
"We see a growing need for the unique, specialized community-based pediatric urgent care we offer, especially late at night," said Dr. Jeffrey Schor, co-founder of PM Pediatrics. "When it's after hours but your child's condition can't wait until morning, parents can count on our family-focused approach to care as well as the highest quality evidence based medicine."
The new Fairfax office occupies 5,400 square feet and features an immersive child-friendly Safari theme with colorful murals and stuffed animals, as well as televisions with children's programming in each room.
"Every one of our offices is focused on the pediatric patient experience – from the murals on the walls depicting playful themes to the exam rooms outfitted with familiar kids' characters," said Steven Katz, co-founder of PM Pediatrics. "Our doctors and nurses provide top-quality care and ensure the comfort of every patient we see."
PM Pediatrics of Fairfax will be open 365 days a year, from Noon to Midnight Monday through Saturday, and 10 a.m. to Midnight on Sunday. The state-of-the-art practice is staffed by a healthcare team with experience in Pediatric Emergency and urgent care medicine, including board-certified pediatric emergency physicians and pediatricians, and features onsite digital x-ray and lab. Unlike traditional urgent care practices, PM Pediatrics treats children and young adults, exclusively. Mark Roddy, MD, FAAP, will serve as the Medical Director for the location.
For more information about PM Pediatrics and a list of locations, visit pmpediatrics.com.