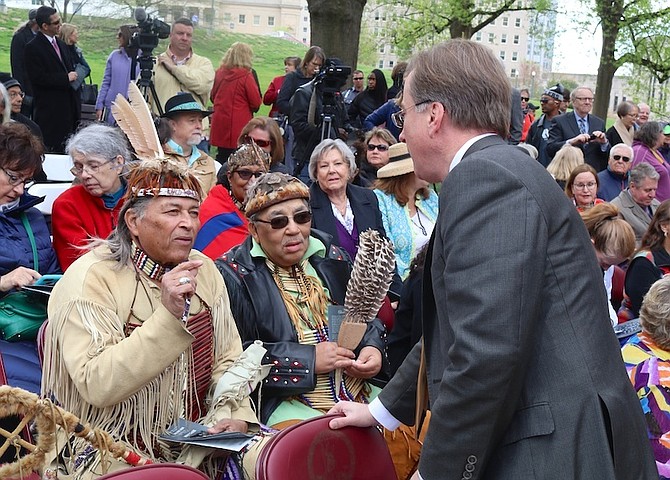 November is Native American Heritage Month: dedicated to celebrating the rich and diverse cultures and traditions, and to acknowledge the important contributions, of Native people throughout the country.
It is especially meaningful to me personally as general counsel of Running Strong for American Indian Youth, a Native American-led charity headquartered right here on Richmond Highway in Mount Vernon, and also as a Virginian, home to the first Native people to encounter the European colonists on our shores.
In 1990, President George H.W. Bush approved a joint resolution designating November 1990 as "National American Indian Heritage Month." Similar proclamations, under variants of the name (including "Native American Heritage Month" and "National American Indian and Alaska Native Heritage Month") have been issued each year since 1994.
In Virginia, four years ago, I introduced a joint resolution HJ 347, passed unanimously by the General Assembly, to designate the day before Thanksgiving as Indigenous Peoples' Day, even though across the country you can find Indigenous Peoples' Day, or often called Native American Heritage Day, on the second Monday in October. Indeed, earlier this year, Alexandria City Council unanimously adopted a resolution recognizing what was formerly known as "Columbus Day" as Indigenous Peoples' Day, joining more than 130 cities across the country which have done so.
However, in my conversations with local Virginia tribal leaders, they decided that celebrating Indigenous Peoples' Day the day before Thanksgiving is the best way to recognize Virginia tribes and their historic and current contributions to our Commonwealth.
The lands that would later become known as Virginia have always been home to indigenous people, with an estimated population of 50,000 comprising at least 15 separate nations prior to the arrival of the English settlers.
Below I have listed the 11 state-recognized tribes in Virginia. The first seven tribes below are also federally recognized.
Pamunkey (Pamunkey River/King William County)
Chickahominy (Charles City County)
Eastern Chickahominy (New Kent County)
Upper Mattaponi (King William County)
Rappahannock (Indian Neck/King & Queen County)
Monacan Indian Nation (Bear Mountain/Amherst County)
Nansemond (Cities of Suffolk and Chesapeake)
Mattaponi (Mattaponi River/King William County)
Cheroenhaka (Nottoway) (Courtland/Southampton County)
Nottoway of Virginia (Capron/Southampton County)
Patowomeck (Stafford County)
Each year on Indigenous Peoples' Day in Virginia, a ceremony as part of a peace treaty from 1677 continues to this day in which leaders of the Mattaponi and Pamunkey tribes deliver their traditional tax payment to the Governor on the grounds of the State Capitol in Richmond, usually a couple of deer and a turkey.
"Keeping the treaty keeps our people involved in their culture," said Pamunkey Tribal Chief Robert Gray at the 2017 ceremony that dates back 340 years. In 2017, the bucks were presented to then-Gov. Terry McAuliffe.
"We're really here to celebrate what we call the original Virginians – those that were here many, many, many years ago," said McAuliffe during the ceremony.
Knowledge of the history of Native Americans is essential to understanding our history. Their story is the origin story of Virginia and America, yet so few Americans know much about them.
Indigenous Peoples' Day is a day to celebrate the heritage of our Indigenous people, and for both native and non-native to celebrate the many aspects of native culture, both historic and contemporary.
I hope that you will consider visiting the Capitol in Richmond in front of the Governor's mansion on Indigenous Peoples' Day, the day before Thanksgiving, to witness this important tradition going back centuries and predating the establishment of our nation.