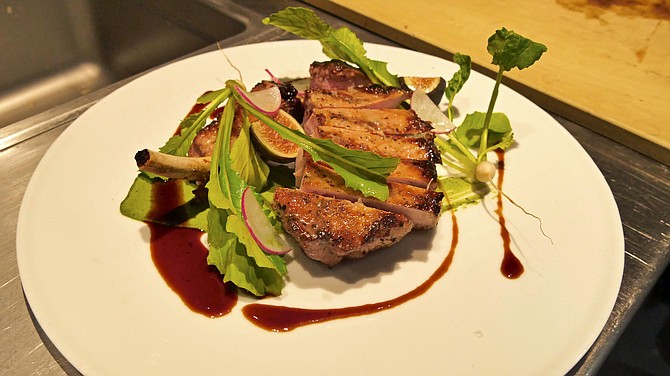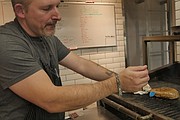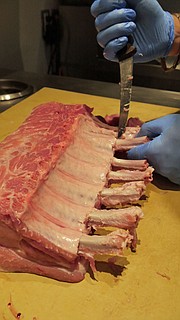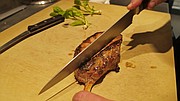 Executive Chef Joseph Conrad at Oak Steakhouse on N. St. Asaph pulls out two eight-pound pork racks from the cooler. "I got these from a farm in Maryland. We cut everything in house. I have a band saw in the back." Today he is making Langenfelder Farms 16-ounce pork chops with chanterelle mushrooms, baby turnips with green chartreuse and pistachio puree. "It is one of our featured items, not on the regular menu."
Conrad got the idea for the puree from one of his buddies who liked to drink green chartreuse, which is an unusual drink. "I smelled it. I liked it because it is herbaceous and grassy. I thought of pistachios, rich and savory. I cook them and puree them with the chartreuse, simple syrup and salt. "It has a slight little sweetness when you marry them together. It is pretty delightful."
Conrad has removed the chine on the back of the pork loin for easier parting into chops. In 7-8 minutes he has taken the sinew off the back, scraped the excess meat off the ribbons, sharpened his Japanese knife and started on the large end of the loin, going closer to the bone as he proceeds, so the slices will come out a consistent size.
In the middle of cutting up the pork, he texts the mushroom man to order his mushroom mix from Pennsylvania. He says it is used mostly for their popular mushroom side dish made with black-soy sauce pepper butter and thyme. Conrad orders 20 cases of 5 pounds ea0ch of mushrooms once a week.
Conrad sprinkles Kosher salt and then toasted ground Tellicherry pepper and places the chop on the grill.
"I estimate it is about 600 degrees at this spot."
Conrad will grill it about 8 minutes for medium rare. "Since it is high quality meat, we're not afraid to grill pork medium rare." Conrad remembers with some humor that he worked at a pig farm in Iowa when he was in high school. "I'm surprised I can eat pork today."
Conrad inserts a razor thin cake thermometer into the chop and then presses it against his face. He doesn't use a meat thermometer because it pokes large holes in the meat and lets the juices run out. "Since your skin is 98.6 degrees, if the cake thermometer feels completely cold, you know the meat isn't done. If it's just getting a little warm, you know it is medium rare." He says, "It's not just something you just learn overnight."
Conrad bastes the chop with butter compound which is house made butter mixed with Dijon mustard, white wine, salt and pepper. He cuts two mission figs in half, and turns to flip over the chops and baste them once again.
Conrad pulls out two baby turnips each about the size of a large pea with long feathery leaves to use as garnish. He explains, "I ordered baby turnips but when the sous chef showed them to me I asked 'is he still here.' But they turned out to a nice garnish." He turns to the chops and bastes them once again. "Pork is a lean meat without a lot of marbling."
Conrad has made a wine jus, which is one of the two basic house sauces, used in the restaurant. "You roast beef bones an hour and twenty minutes until they are crispy and have a nice flavor. Mix bone broth with tomato paste and reduce until sticky." Separately he has reduced red wine, port and shallots and mixes the two sauces together.
"I'll take the chop off and let it rest for a minute." With a swipe of a brush, Conrad creates a green swath across the white serving plate. Then a swirl of the red wine reduction. He places the chop on a cutting board. "Here I'll cut off the end." He places it at an angle on the side of the plate and then spirals open the other slices in a curve." The baby turnips are nestled with the pork along with a few thinly sliced radishes on the edge.
Conrad went to Culinary Academy in San Francisco, and then did an externship at Charlie Trotter's in Chicago before going back to San Francisco for six years. He has been at Oak Steakhouse since January 2019 when he came to supervise the opening of the restaurant in July.
He credits his love of cooking to his grandmother and her amazing lemon poppyseed bread. "Very simple but the same every time – the structure of the loaf, just the right amount of icing." And it was more the camaraderie, everyone hanging out in the kitchen, the heart of the house.
Oak Steakhouse is at 901 N St Asaph St, Alexandria, VA 22314.