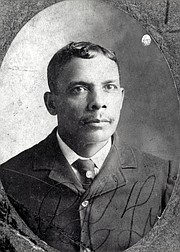 Patrick H. Lumpkins was born a slave, but did not let his circumstance stop him from making an enormous impact on the African Americans in Alexandria, Virginia, through education and music. His first career choice was medicine, but due to lack of funds, he pursued education. He attended Howard University, but was unable to complete the program. In August 1882, he was selected to teach at Snowden School for boys to fill the vacancy of William F. Burke, who had resigned.
Patrick was also gifted in music. He was a member of Roberts Chapel Methodist Episcopal Church and a contributor to the church music programs for more than forty-years. He helped to increase membership in the church through his music. He sang in the church choir in the late 1870s, directed the church music programs and organized the Epworth League Choir and the Brotherhood Choir. He served as superintendent of Sunday school.
In 1897, Patrick gave a musical performance that was the talk of the town, and the famous Booker T. Washington attended Roberts Chapel Methodist Episcopal Church during that performance on a visit to Alexandria. Patrick also was the musical director for the Alexandria Choral Society. He performed in 1905 at the Alexandria Opera House with seventy voices to raise money for the Colored Old Folks' Home; a large turnout from the community attended. Late that same year, he and the choir gave another concert to raise money for the Colored Ward of the Alexandria Hospital. Mr. Lumpkins was also active in his community affairs. He connected to the young and the old.
Patrick H. Lumpkins was born in 1856 to Gustavus (Gus) Lumpkins and Catherine Buckner in Loudoun County, Virginia. As a young child in slavery, his mother had to work in the fields. She strapped Patrick to her back while she worked the fields. Young Patrick experienced poor circulation in his hand that caused him paralysis for the rest of his life. The disability did not stop him from excelling in school and in music.
During the civil war, Patrick's parents made their way to Alexandria in 1863. Gus and Catherine had their second son, James Lumpkins, who was born in Alexandria as a freed person in 1868. Patrick's father was a skilled shoemaker. He also invested in property in 1875 and purchased a house at 179 King Street, and turned the house into a boarding house called the Fountain House.
After College, Patrick married Lucy A. Webb in 1902. They had a daughter named Helen Lumpkins in 1905 who also pursued a career as a teacher. Helen's life mirrored her dad. She became a well-known teacher, an organist and a junior choir director for Roberts Chapel Methodist Church for twenty-nine years. Patrick's granddaughter, Bernice Robinson Lee became the third generation of school teachers in her family by teaching in the Chicago School system. Patrick Sr., also had a son, Patrick Lumpkins II. Today, Patrick Sr., has two granddaughters who pursued medical careers. One of his granddaughters is a medical doctor and the other is a dentist.
On September 15, 1919, Patrick Sr., died at home at 615 South Columbus Street. He left behind his wife, Lucy, his two children, Helen and Patrick II. His descendants continue to achieve success because Patrick paved the way for them. He never let his circumstance define him.
Char McCargo Bah is a published author, freelance writer, independent historian, genealogist and a Living Legend of Alexandria. She maintains two blogs, http://www.theotheralexandria.com and http://www.findingthingsforu.com.