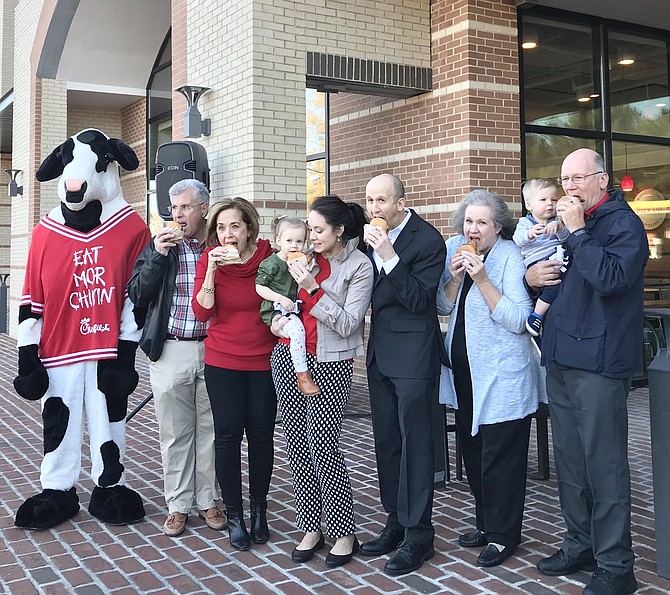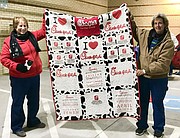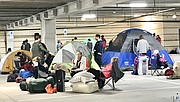 The first stand-alone Chick-fil-A in Vienna opened to the public on Thursday, Nov. 21. The 4,900-square-foot restaurant is the first in its chain to share a building with a carwash business.
A traditional First 100 Campout party lasting 12 hours ended with rewarding the first 100 adult customers with free Chick-fil-A meals for a year. Campers began pitching tents at the restaurant's covered parking lot at 6 p.m. on Wednesday evening and were given chocolate chunk cookies before settling in for the night. At 6 a.m., the Chick-fil-A cow mascot led the campers across a red carpet where they received gift cards loaded with 52 free meals.
Operator Jeff Hubley and his family participated in a ribbon-cutting ceremony and the First-Bite Ceremony, celebrating the first bite of the original Chick-fil-A Sandwich. "I am excited to have the opportunity to bring Chick-fil-A to Vienna and serve our community both inside and outside our restaurant. I am committed to developing my team members as we provide a remarkable experience to our guests who become part of our family," said Hubley in a statement.
The Vienna Chick-fil-A at Maple restaurant is open Monday through Saturday from 6 a.m. to 10 p.m. and closed on Sundays.