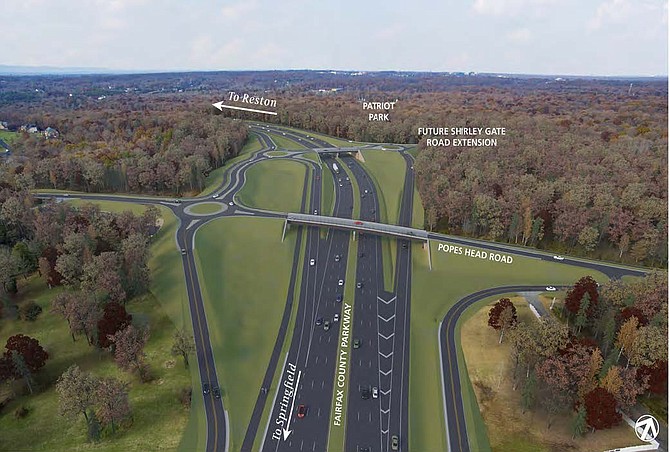 Anyone who has traveled on the Fairfax County Parkway during peak travel times has experienced the back up at the Popes Head Road signal. From
Public Hearing Dec. 12
The design public hearing will be held Thursday, Dec. 12 from 6:30 p.m. to 8:30 p.m. at James W. Robinson, Jr. Secondary School, 5035 Sideburn Road, Fairfax. A presentation will begin at 7 p.m. If cancelled due to inclement weather, the meeting will be held Monday, Dec. 16.
either direction, the traffic backs up on the parkway so far it's difficult to even see the traffic light that's causing the whole thing.
It's on the Virginia Department of Transportation's radar screen though, and another meeting is planned to look at the solutions their engineers have come up with for this $290 million project. The first public information meeting was held in December 2017, and there was a series of meetings up until early November 2019, and now it's moved into the "design public hearing" stage, which is a more official point in the road building process.
According to VDOT, this section of the Fairfax County Parkway from a point just north of Lee Highway to Ox Road gets about 85,000 vehicles a day and Popes Head Road averages about 4,000 vehicles a day.
The plans are to widen about five miles of Fairfax County Parkway from four lanes to six through this corridor, and redo the Popes Head Road interchange using triple roundabouts that will allow traffic to flow freely via two new bridges over the parkway. At that interchange, there will be access to the future Shirley Gate Road extension and Patriot Park as well.
The project will also include improving the Route 123 interchange, the Fairfax County Parkway/Burke Centre Parkway intersection, and a section of a shared-use path. This is a missing segment on the shared-use path between Burke Centre Parkway to Route 123.