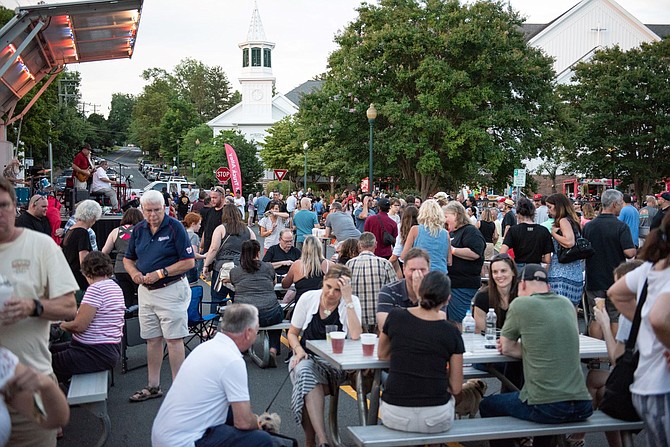 The residents of Vienna have spoken about living in the Town of Vienna, and what they said was good. So good, that Vienna is now among 22 communities nationwide who will be recognized Oct. 21 at the 105th International City/County Management Association (ICMA) conference in Nashville for excellence in delivering quality-of-life services to residents. Vienna is a winner of Voice of the People Awards for both Excellence in Recreation and Wellness and Excellence in Education and Enrichment.
Based on citizen responses to the National Citizen Survey, Voice of the People awards are presented jointly by the National Research Center, Inc. (NRC), Polco, and ICMA.
According to the survey results, the residents were happy with the parks, recreation center, recreation programs, health services, libraries, schools and special events.
"We love the Vienna community and what we do to serve residents," says Parks and Recreation Director Leslie Herman. "We like to think that parks and recreation programming and community events function as the connective tissue that brings our community together and makes it stronger. We're so gratified that our programs, facilities, and events are appreciated by citizens."
VIENNA has one recreation center: The Vienna Community Center at 120 Cherry Street SE. The community center was recently renovated and expanded; it reopened in September 2017 after being closed for two years. Earlier this year, the Town received confirmation that renovated community center had achieved gold-level LEED certification. The community center hosts more than 700 programs annually. Vienna also has 11 parks that comprise about 92 acres and 8 athletic fields for youth recreational sports.
In 2018, the Town hosted 78 events. Many of these events are sponsored or co-sponsored by community organizations, including, for example, the Vienna Rotary Club (Viva Vienna), Vienna Business Association (Halloween Parade and Oktoberfest), Historic Vienna, Inc. (Church Street Holiday Stroll and Old-Fashioned Egg Roll), Windover Heights Historic District (Walk on the Hill), and Taste of Vienna (Vienna Volunteer Fire Department). Other Vienna event highlights include the July 4 celebrations, Chillin' on Church summer block parties, summer concert series, children's summer performance series, Halloween on the Green, and Fishing Rodeo.
ACROSS 126 CATEGORIES measured by Vienna's National Citizen Survey, the Town was rated higher by its residents than national comparison communities in 65 categories, similar in 57, and lower in four. Responding residents rated Vienna as excellent or good as a place to raise children (98 percent), a place to live (96 percent), and for quality of life (94 percent). Of Vienna and other Voice of the People award winners, Damema Mann, director of national engagement for NRC/Polco says: "These local governments are doing great things for their communities and improving everyday life for their residents. We are honored to recognize the award winners…on a national stage."
The lower four areas are issues that seem to plague the whole Northern Virginia area, starting with transportation. "Traffic flow," and "travel by car," were given low ratings by Vienna residents, followed by affordable quality housing, and able to work in Vienna.
Other Survey Findings
• Visited a Town park: 90%
• Ate 5 portions of fruits and vegetables: 86%
• Participated in moderate or vigorous physical activity: 89%
• Used Fairfax County libraries: 74%
• Participated in religious or spiritual activities: 43%
• Attended a Town-sponsored event: 75%