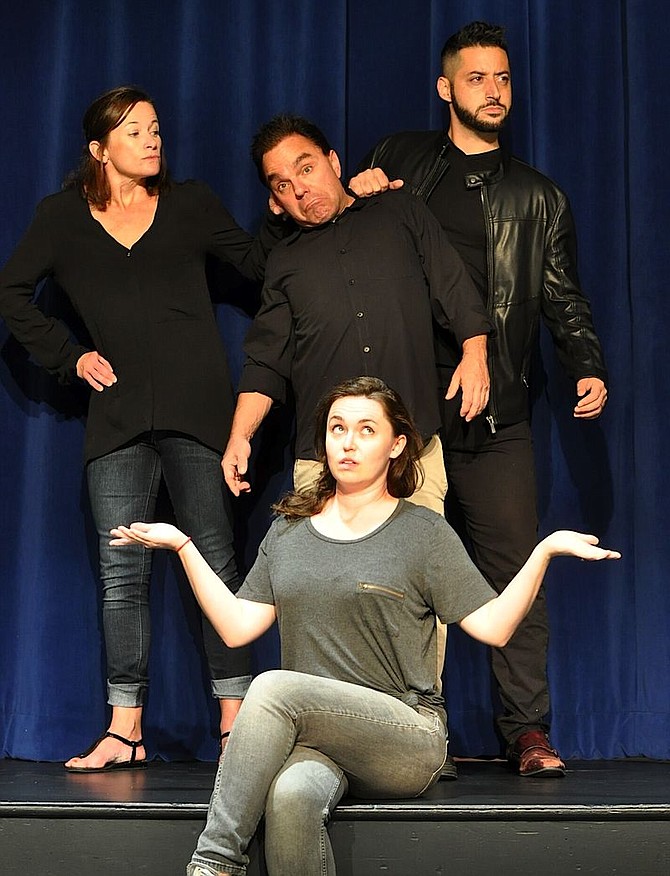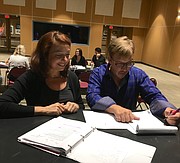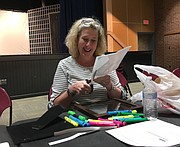 The Vienna Theatre Company's fall production of "One Man, Two Guvnors" is a community binding production that includes comedy, music, choreography and Commedia dell'arte as they "break the fourth wall," by including the audience.
"You got to keep trying new stuff," said Micheal O'Connor, who shares the role on the production manager side with Laura Fargotstein at VTC.
According to the VTC description, the Servant of Two Masters is set in 1963 Brighton. Recently fired from his skiffle band, Francis Henshall scrambles to find work in this working-class British beach town, where the ladies liberation movement has just begun to bloom. High and low humor collide in this British farce complete with live Beatles-inspired music. It is an English adaptation of Servant of Two Masters a 1743 Commedia dell'arte style comedy play by the Italian playwright Carlo Goldoni.
"There are some strong female roles in the play," said Eric Storck, the director who lives in Oakton, and mans the wheel at the BladeRunner landscaping business when he's not directing. Brittany Stane plays Dolly, who is very opinionated, and Gabrielle Grant, a Merrifield resident plays Pauline Clench.
For Stane's roll as Dolly, there is a good fit. "I think Dolly tells it like it is, and I'm like that sometimes," said Storck. There is a similar fit with some of the other characters, and when dealing with community theater in general, that fit is needed, said Stane. "That's the only way they can make it real," he said. One part calls for a light-headed, carefree type and Storck had to find a real life example when he was working with the staff. "One woman has to do a part that's kind of vacant and I said to look at Suzanne Somers in Three's Company," he said. Somers was famous in the late 1970s for the television role of Chrissy Snow on Three's Company – a dinghy blonde with a high-pitched voice.
On stage, there are seven scene changes, which is a lot for a production like this, and in one scene in a restaurant, the waiter is running back and forth; Storck calls this the "hilarious dinner scene."
Katie Boone is a stand-in stage manager that isn't a regular at VTC, but took on the role when the regular stage manager couldn't make it. She made a graduation picture of Blake Gouhari as a prop, and had a table full of other things including meat balls that need to be eaten in the show. One set of meatballs is fake and the other set is made from donuts. "He does have to eat some, so we used donut holes," she said.
The comedy vehicles are Shakespearean, and timeless, said Storck, and it follows a traditional plot. "The fools seem to know what's going on and the smart people and rich people are clueless," he said.
"The most important thing about the Vienna Theatre Company: it involves the community," Storck said.
The VTC is the resident, non-profit performing company at the Vienna Community Center in Vienna, VA. VTC brings residents of Vienna, as well as the surrounding Northern Virginia/D.C. metropolitan area, the opportunity to participate in theater as a viewing audience or as working members of a local theater company dedicated to fine entertainment in the best traditions of community theater.
When & Where
ONE MAN, TWO GUVNORS by Richard Bean, based on The Servant of Two Masters by Carlo Goldoni; Directed by: Eric Storck.
Performance dates and times:
Friday and Saturday 8 p.m: Oct. 18, 19, 25, 26, Nov. 1, 2; Sunday Matinees 2 p.m.: Oct 27, Nov. 3.
Vienna Community Center, 120 Cherry St. SE, Vienna. For more information: visit www.viennatheatrecompany.org
Ticket prices: General Admission $14. Tickets may be purchased in advance at VCC or by cash, credit card or check at the door before each performance if still available.