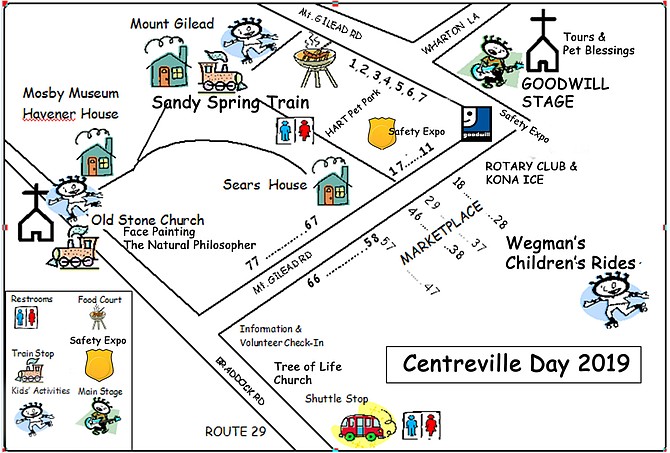 Fun and games, history and a chance to enjoy a fall day outdoors with friends and family – that's the 27th annual Centreville Day celebration. It's slated for Saturday, Oct. 19, from 10 a.m.-5 p.m., in Historic Centreville Park, 5714 Mount Gilead Road (off Braddock Road, across Route 29 from the IHOP).
The festivities include a parade, live music, children's activities, food, crafts, a pet pageant, dancing, martial arts and swordsmen, plus opportunities to learn about Centreville's history. Admission is free, as are parking and shuttles available at The Trinity Centre, 5860 Trinity Parkway, off Route 29.
Friends of Historic Centreville puts on Centreville Day in partnership with the Fairfax County Park Authority, with the Centreville Day Planning Committee handling the details.
"We're very excited about Centreville Day this year," said event organizer Cheryl Repetti. "The Safety Expo, organized by Steve Hunter, has really taken off and become something special. We get truly outstanding support from the Sully District police and local fire stations, but there's also Washington Gas, Waste Management and organizations concerned with seniors or domestic violence. It's a wide variety of community services that people should know about."
Besides that, she said, "The Rotary Club Pet Pageant is celebrating its fifth year. It's so much fun to see folks in matching costumes with their pets, but it isn't required. You could walk with your goldfish, if you want."
Opening ceremonies are at 10 a.m. at the main stage near St. John's Episcopal Church, 5649 Mount Gilead Road. The Fairfax Choral Society Youth Choir will sing the National Anthem and Supervisor Kathy Smith (D-Sully) will present the Centreville Day Citizens of the Year awards.
Parade, Food, Children's Games
Organized by American Legion Post 1995, the parade assembles near Wharton Park Court at 10:30 a.m. It'll kick off from Wharton Lane at 11 a.m., passing the stage shortly before noon and continuing along Mt. Gilead Road to Braddock Road.
The Chantilly Academy's Air Force JROTC will lead it; among the participants are fire and police, Girl Scouts and the Fairfax Choral Society. Individuals and families are welcome to join; costumes are encouraged, and prizes will be awarded. Groups should register in advance at www.CentrevilleDay.org.
Food Court offerings include barbecue, pulled pork, seafood, shawarmas, baklava, Thai food and macaroni-and-cheese bowls. In addition, the Korean Central Presbyterian Church will give out free popcorn.
The Marketplace will feature jewelry, bath items, pet crafts and services, health and home businesses, churches and nonprofits. And children may break out their Halloween costumes and collect candy along the trick-or-treat trail at locations displaying pumpkin signs.
Other free, children's activities include a climbing wall and inflatable obstacle course sponsored by Wegmans, plus history-train rides sponsored by Sandy Spring Bank. Also planned are rolling hoops, a tug-of-war and a maze on the lawn at Mount Gilead.
Children and adults will enjoy hands-on history at Mount Gilead, built as a tavern in 1785. It's open for guided tours and, on its lawn, people may try their hand at colonial woodworking or work with volunteers from Ellanor C. Lawrence Park to transform humble corn stalks into dolls. Centreville Day's perennial swashbuckler, Charlie Anderson, will return to delight the crowd with his swordplay, and the organizers are also hoping to add a blacksmith at work.
For free face-painting, families may take the train and stroll down Braddock Road to the Old Stone Church. Also there will be a 19th-century philosopher with amazing curiosities and wonders, as well as a bake sale and ploughman's lunch offered by the church.
Onstage Performers, Safety Expo
New on the Goodwill Stage this year will be Bach2Rock, a school for talented, young people who will be the event deejays and will also perform. At 10:30 a.m. will be dance group, Sunday on Tap, followed by performers from the Harmony Roads school.
After the parade, Bach2Rock will take the stage at 11:45 a.m. Next will come the Centreville Dance Academy at 12:30 p.m. Also entertaining will be Harmonica and autoharp players from the Korean Senior Center, plus martial artists from the Northern Virginia Wu Shu Academy. Capping off the entertainment will be a hula-hoop endurance contest. For more information, go to www.CentrevilleDay.org.
At the Safety Expo, attendees will meet first responders and other public-safety personnel, learn about the services they provide and how to handle emergencies. Sheriff's Office members will make child I.D.s, and police and fire-and-rescue vehicles will be on display, along with trucks from Washington Gas.
Pet Pageant, Historical Tours
The Rotary Club Pet Pageant is at 2 p.m. on the main stage; pets should be registered at the stage beginning at 1:30 p.m. Families may bring more than one pet; prizes will be awarded, and pets may be photographed with McGruff the Crime Dog and Sandy Dog from Sandy Spring Bank. The Rev. Carol Hancock will bless pets on the lawn of St. John's Episcopal Church, before and after the pageant. A brief presentation by Paws4Vets will precede the pageant.
St. John's Church will be open for tours. And down the street, people may visit the Spindle Sears House, purchased in 1933 from a Sears catalog and shipped here by train. E.C. Lawrence Park staff will share its story. Tours will also be available at the Old Stone Church, Havener House, Stuart-Mosby Calvary Museum and the Mount Gilead house.
The history train, driven by Sully Historic Site's Matt McNeal, will transport people between sites; stations will be on the lawn at Mount Gilead and on Braddock Road. Visitors may disembark at the Braddock Road stop and stroll downhill to the Old Stone Church (Church of the Ascension). or visit Havener House and the museum – which features a reconstruction of a Civil War winter cabin. Afterward, visitors may follow the trail behind the museum back to Mount Gilead or walk up Braddock Road to return by train.
Looking forward to the event, Repetti said, "We have such a dedicated planning committee and supportive sponsors. Everyone works hard to make each Centreville Day a bit different and a bit better, and we just hope that everyone comes out to celebrate Centreville."