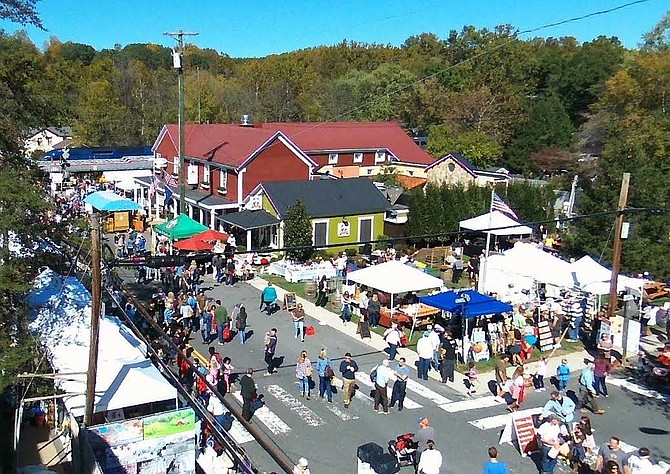 One of Northern Virginia's favorite fall events, the Clifton Day Festival, will take place on Sunday, Oct. 13 from 9 a.m. to 5 p.m. in the scenic town of Clifton.

Under the theme "Small-town charm, big-time fun," the 2019 festival will feature a marketplace with around 150 artisans, antique dealers, vintage sellers and other vendors. Live music, children's activities, pony rides, a beer & wine garden and other delicious food and beverage choices will add to the fun.
Clifton Day is the only day of the year when the train stops in the town. The Virginia Railway Express (VRE) will provide roundtrip train service to Clifton from all stops between Manassas and Rolling Road. The train ride to Clifton is free and the return trip costs $5 per person (children under age two ride free).
The Clifton Day Festival, hosted by the Clifton Betterment Association (CBA), arose from a 1960s revitalization effort for the historic town of Clifton, which had fallen into a state of disrepair since its incorporation in 1902. Residents decided to hold a festival in 1967 as a way to attract the public to the charming place they called home. The annual festival, now in its 52nd year, has been going strong ever since on the Sunday before Columbus Day.
Each year, Clifton Day raises funds for the Girl and Boy Scouts, Clifton Lions Club, Acacia Lodge, the Clifton Presbyterian Church and other nonprofit groups.
Sponsors for 2019 include Carrie and Co. Real Estate Group at RE/MAX Allegiance; Clifton Baptist Church, F.H. Furr Plumbing, Heating, Air Conditioning & Electrical; Norfolk Southern; Ourisman Fairfax Toyota; Peterson Companies; Professional Tutoring; Tru Orthodontics; United Bank; Villagio Hospitality Group; and VRE.

Admission is free. Parking starts at five dollars per car. For more information about Clifton Day, visit www.cliftonday.com or the festival's Facebook page.
2019 Clifton Day Performance Schedule
Main Stage
11 a.m. Pomegranates on Fire – Genre-bending indie rock
12 noon StewBone – Steller musicians performing the Grateful Dead catalog
1:30 p.m. Jumpin' Jupiter – Rockabilly legends
3 p.m. Cris Jacobs with Colin Thompson – American soul/blues rock
4:30 p.m. The Woodshedders – Original roots alchemy
Ayre Square Acoustic Stage
10 a.m. and 1 p.m. Plank Stompers – Space grass
11 a.m. and 2 p.m. Jay Elliott – A local favorite
Check the festival's Facebook page for any updates.