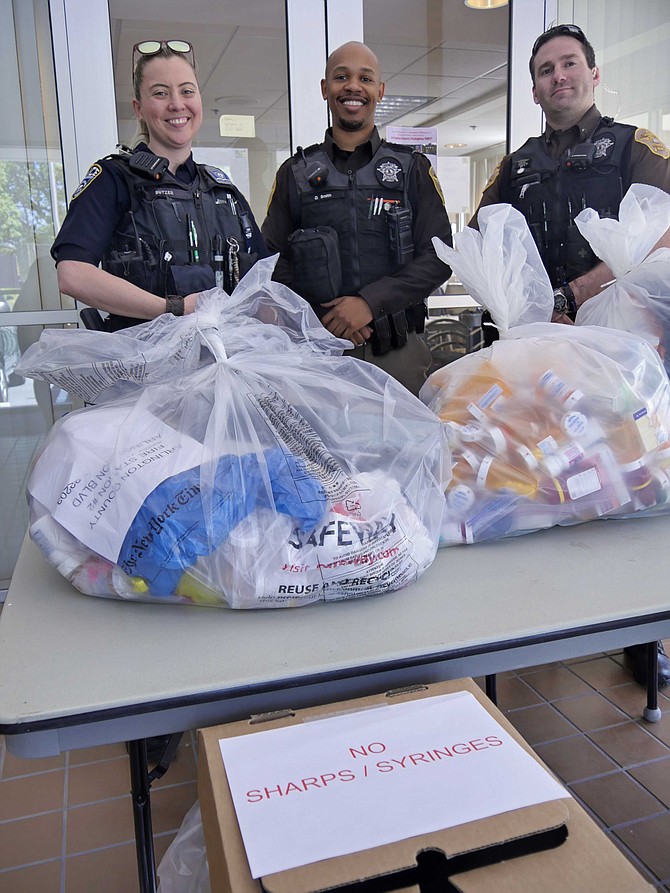 On Saturday, Oct. 26, 2019, from 10 a.m. to 2 p.m., the Arlington County Police Department, Arlington County Sheriff's Office and the Drug Enforcement Administration (DEA) will give the public its 18th opportunity in nine years to prevent pill abuse and theft by ridding their homes of potentially dangerous expired, unused, and unwanted prescription drugs. This disposal service is free and anonymous, no questions asked.
National Drug Take Back Drop-Off Locations
The Arlington County Police Department and Sheriff's Office will collect prescription drugs at the following sites:
• Fire Station #1
 500 S. Glebe Road
Arlington, VA 22204
• Fire Station #2
 4805 Wilson Boulevard
Arlington, VA 22203
• Fire Station #9
 1900 S. Walter Reed Drive
Arlington, VA 22204
Please note: The DEA cannot accept liquids, needles or sharps. Only pills or patches will be accepted. To safely dispose of sharps, Arlington County recommends placing the item in a hard-plastic container, such as a detergent bottle, securing the container and placing it in your trash cart. Do not put this container in your recycling. If you need more information, contact your local pharmacist.
For additional collection sites across the region, visit their site locator: www.deadiversion.usdoj.gov/drug_disposal/takeback/index.html
Permanent Drug Take-Back Locations in Arlington County
Residents unable to attend the National Prescription Drug Take-Back Day are reminded that Arlington County has four permanent drug take-back boxes available in the County. Since the program launched in June of 2018, the Arlington community has safely disposed of 2,816 pounds of prescription medication.
The public can safely dispose of prescription medications 24 hours a day, 7 days a week, 365 days a year with no questions asked at the following locations:
• Fire Station #2
 4805 Wilson Boulevard
Arlington, VA 22203
• Fire Station #5
 1750 S. Hayes Street
Arlington, VA 22202
• Fire Station #9
 1900 S. Walter Reed Drive
Arlington, VA 22204
• Arlington County Police Department 
1425 N. Courthouse Road
Arlington, VA 22201
Items accepted at the drug take-back boxes are prescriptions, vitamins, prescription ointments, pet medications, prescription patches and over-the-counter medications. Items not accepted are needles, inhalers, aerosol cans, thermometers, lotions or liquids and hydrogen peroxide.
Additional Resources
If you or someone you know is struggling with addiction, there are numerous treatment resources available in Arlington County: health.arlingtonva.us/opioid-awareness/treatment-resources/ and through the Department of Human Services. Assistance is also available through Operation Safe Station, a designated safe environment where individuals wishing to seek help with their drug use can self-report and receive services, without fear of prosecution and incarceration.