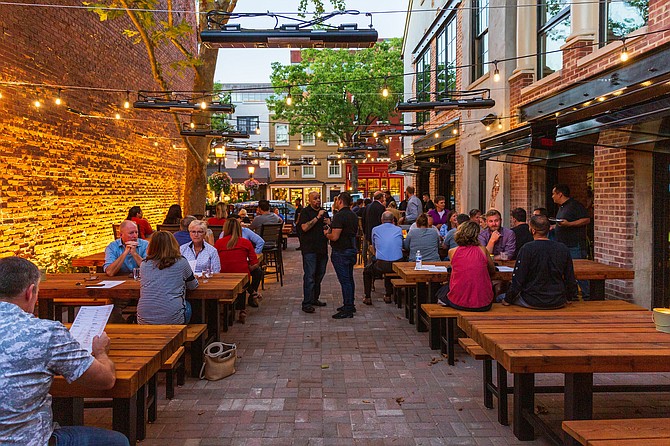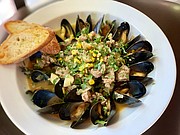 It's almost a law: Every renovation project takes longer than expected. In the case of Augie's Mussel House and Beer Garden, what was intended to be a springtime reopening has become an autumnal one, but Common Plate Hospitality partner Chad Sparrow says the wait was worth it.
"We've completely transformed the space," Sparrow said. "It's unrecognizable from what it was before."
What it was before, historically, was Le Gaulois, that longtime bastion of French fare that closed in 2009. After a series of openings and closures from various businesses afterward, Augie's took over the space last year and immediately opened its patio for seasonal dining while the interior renovations took place.
Now, at long last, the indoor dining room has opened anew, and with it the patio has seen a rebirth, too.
"We've gotten so many great modern looks while actually adding in a lot of history," Sparrow said. Such looks include signage from the old Alexandria Marine shop; a bar consisting of crushed glass (mainly from empty Yuengling bottles) formed into an epoxy and lit up; and above the bar, "there's an old wooden beam that we pulled out of the Potomac River" near Robinson Terminal that's probably a couple 100 years old, Sparrow said. "We sanded it and sealed it and put some lights into it and put it above the bar. It's a really cool feature."
The upstairs dining room has "more of a formal setting," while still remaining fairly casual, Sparrow said. The downstairs, meanwhile, takes on more of a higher-end sports-pub feel.
But what guests are really there for are the food and drink. And in those lanes, Augie's is ready too. The restaurant offers 10 different types of mussels, from the classic (with garlic, onion, tomato and white wine) to the Eastern shore (with corn, sausage, crab broth and Old Bay), "which I think are going to be the biggest sellers," Sparrow said. Along with mussels, guests can munch on housemade pretzels with beer cheese, five different kinds of wings, and heartier fare like ribeye steak, steak tartare, tuna tartare, and more.
Admittedly, a sports-bar feel doesn't take root without a robust drink menu. Augie's is offering up 35 beers on tap and another 40 bottles and cans, as well as a craft cocktail program and wine.
And though the indoor dining rooms have geared up just in time for the weather to turn cooler, the patio is still poised to be a popular place.
"It's definitely where everybody first goes to," Sparrow said, even when the cooler temperatures take hold. "We're hoping to be a nine- or 10-month-a-year patio."
Following a soft launch event and a quiet opening on Oct. 7, Augie's officially opened to the public on Tuesday, Oct. 8, and so far, Sparrow says, the reception has been positive.
"We have a great staff and really happy with the feedback we've gotten so far," he said on the eve of Augie's reopening. "But the true test is coming in a couple days."
Between the mussels, the history-meets-modernity vibe and the thriving bar scene inside and out, there's a good chance Augie's will pass the exam.
IF YOU GO
Augie's Mussel House and Beer Garden
1106 King St., Alexandria
Hours: 11 a.m.-midnight Sunday-Wednesday; 11 a.m.-1 a.m. Thursday-Saturday.
Hope Nelson owns and operates the Kitchen Recessionista blog, located at www.kitchenrecessionista.com. Email her any time at hope@kitchenrecessionista.com.