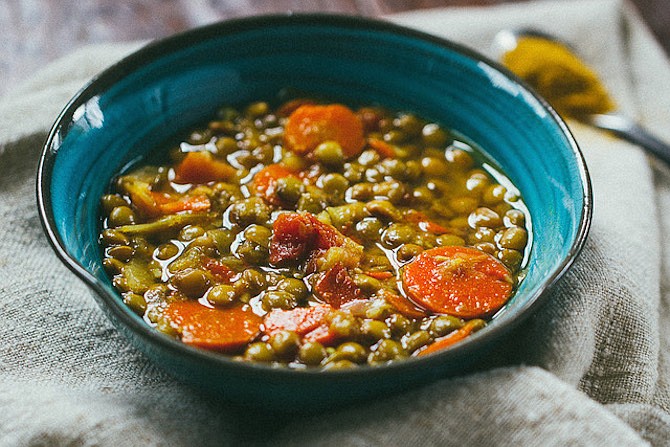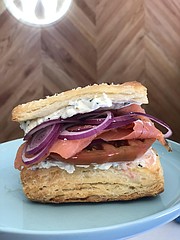 Amid the dumplings, pizza and burgers at Pendleton Carryout Company, two new players have entered the game. Mouths, meet biscuits and bowls of soup.
Freed Biscuit Company and 100 Bowls, both longtime farmers market gems around the region, have planted their flags in Alexandria with space at Pendleton Carryout. This marks the first foray into the city for both companies, and indeed both eatery owners are just happy to be here.
"I've been working out in Warrenton and been wanting to get my biscuits other places and closer to the city," said Freed Biscuit Company's Josh Freed. Freed had known Pendleton's Ed McIntosh for some time, and when the opportunity arose for Freed Biscuit to join the Pendleton ranks, he jumped at the chance.
Freed's entry into the biscuit business came about rather surprisingly – for him most of all. Though always a bread-baker, biscuits were never something he'd fallen into before, he said.
"Really I was just messing around and watching TV and I just saw people making biscuits, biscuits and gravy," he said. He duplicated the on-screen recipe the next morning and his biscuit career was born.
Soon thereafter, Freed began selling his wares at the Warrenton Farmers Market. Freed Biscuit Company has been in service for about a year and a half now; the shop at Pendleton will be his first brick-and-mortar space.
His menu is small but mighty. From jalapeno cheddar to "everything" biscuits (think all the best parts of a bagel, but in biscuit form), to his loaded-up biscuit "bombs" – "The size of a softball, it's pick up and go" – Freed is aiming to bring the joy of biscuitry to the Alexandria masses.
"I hope this is the best thing you eat today," he tells people at the farmer's market. The sentiment extends to Pendleton.
What pairs better with biscuits than a hearty bowl of soup? 100 Bowls is the second new vendor entering the Pendleton Carryout space, and owner Katharine Mardirosian is ready to roll, supplying the eatery with hearty ready-to-eat bowls of soup that customers can pick up and head out with.
"I had visited [the Pendleton] space … a little less than a year ago, and I really like what [McIntosh] is doing, bringing on various food entrepreneurs, acting as an incubator," Mardirosian said. Now, she is joining the ranks.
But 100 Bowls is no stranger to the Northern Virginia food scene. Rather, the company celebrates its 10th anniversary in November after years at the Reston Farmer's Market, garnering shelf space at MOM's Organic Market, and now in their own commercial kitchen in Herndon. Other than their presence at the Arlandria MOM's, this will be the first extension into Alexandria for 100 Bowls, as well.
100 Bowls' soups come from a desire to eat well – and healthily, Mardirosian says.
"The concept was pretty simple: I was making homemade soup from scratch, which I really loved, and I thought why isn't there better soup out there?" she asked.
Originally strictly plant-based, 100 Bowls has expanded its menu to include a few soups that do include meat.
"We pride ourselves on catering to any diet," she said.
Expect a plethora of soup options from 100 Bowls at Pendleton, Mardirosian said. Curry lentil, carrot ginger, fall butternut and Moroccan stew are some of the most popular.
"They're hearty soups, they're thick soups. Even though they're vegan they're incredibly hearty," she said.
IF YOU GO
Freed Biscuit Company and 100 Bowls at Pendleton Carryout Company, 807 Pendleton St, Alexandria, VA 22314
100 Bowls soups will be available when Pendleton is open, 11 a.m.-8 p.m. Monday-Wednesday, 11 a.m.-9 p.m. Thursday, and 8 a.m.-9 p.m. Friday-Sunday.
Freed Biscuit Hours: 8 a.m.-noon Fridays-Sundays
Try this biscuit: The everything biscuit. "I really like the house-cured gravlax," said Freed Biscuit Company owner Josh Freed. "The everything spices, when they start toasting, it's such a great smell."
Try today's soup: "I love the hearty soups," 100 Bowls owner Katharine Mardirosian says. "We do an Italian vegetable that's a little bit brothy, but that's got every single vegetable you can imagine."
Hope Nelson owns and operates the Kitchen Recessionista blog, located at www.kitchenrecessionista.com. Email her any time at hope@kitchenrecessionista.com.