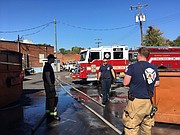 On Sunday, Oct. 20, at approximately 11:56 p.m., units from the Fairfax County Fire and Rescue Department and City of Alexandria Fire Department were dispatched for a building fire in the 1500 block of Belle View Boulevard in the Belle Haven section of Fairfax County. The fire broke out in the Belle View Shopping Center in the vicinity of the 1 Hour Cleaners and Yido Sushi restaurant, causing damage to both facilities.
The source of the fire is unknown at this point and the cause is under investigation, according to fire officials. Other businesses that shared that part of the center had broken doors that occurred when firefighters needed entry while putting the fire out.
"Units arrived on scene of a one-story, strip shopping center with heavy smoke visible. A second alarm was requested. Fire became visible through the roof. Six alarms were eventually requested due to the nature, size, and scope of the fire. This brought units from Arlington County Fire Department, Fort Belvoir Fire and Emergency Services, Prince Georges County (MD) Fire Department and the Washington Metropolitan Airports Authority Fire and Rescue Department to assist," said a Fairfax County Fire and Rescue statement. "The majority of the fire damage was confined to two store units. Multiple other stores suffered minor damage. One firefighter sustained a minor injury. There were no reported civilian injuries."
Later Monday morning, truck 411 from the Penn Daw Fire Station was at the scene, as were several firefighters, looking for any remnants of active coals or smoldering in several locations. "We're just doing some hot spot checks," said Battalion Chief Marty Ranck from the Penn Daw Station.
As firefighters fought the blaze in the overnight hours, they went to other stores along that section of the shopping center, breaking in glass doors at the Spokes Etc. bike store and the Alexandria Music Company to gain access. "If they have to force entry, that's what that's all about," said Ranck.
Ranck said they would be back "periodically throughout the day."
Monday evening, there was an announcement on social media that the Alexandria Music Company was having a sale on damaged items.
No one was reported to be in the building at the time of the fire, reported fire and rescue. The fire was called in by a passer-by that saw smoke coming from a store front. The two primary units involved were not equipped with a fire sprinkler system, fire and rescue said.
Fire Investigators determined the fire was accidental in nature and started in the kitchen of one of the businesses. The exact cause of the fire is pending further investigation.
Damages as a result of the fire are approximately $5,804,063.
"Scary situation in Belleview Shopping Center last night, but good to hear no one was hurt," Sen. Scott Surovell posted on his Facebook page. "I hope Dishes of India Indian Restaurant opens back up soon or my house may be going through withdrawal symptoms."
"Dishes of India was not harmed by the fire! We had a little bit of water damage in back, and we are taking care of it now," reported the restaurant. "We will post as soon as we know when we can open back up. Thank you everyone for your concern."