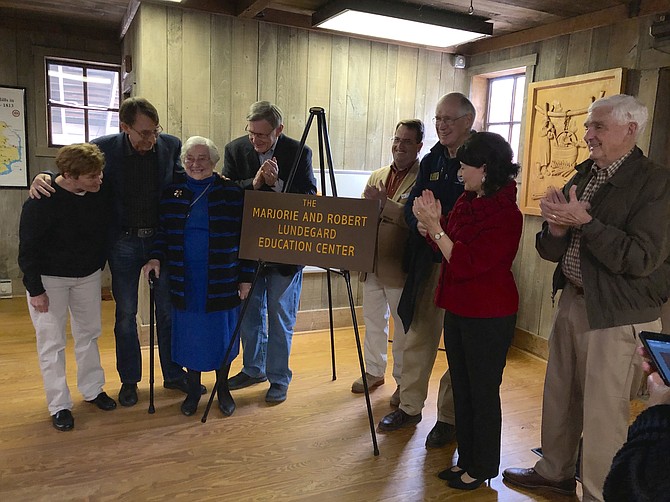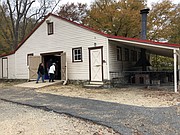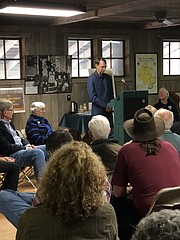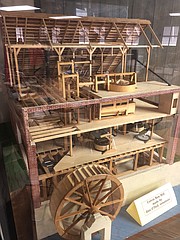 Friends and staff of the Colvin Run Mill gathered at the historic site in Great Falls on Saturday morning to honor Bob and Marjorie Lundegard with the renaming of a barn on the property. Bob Lundegard died in May of this year and many of the speakers reflected on what an impressive man he was, and the unstoppable team he and Marge made with many of those around them.
Many remarked on how fitting it was to dedicate the Marjorie and Bob Lundegard Education Center to the couple, because the Lundegards dedicated much of their lives to preserving, restoring, and advocating for the mill and cultural preservation. It all began in 1989, when Marjorie, a former teacher, started volunteering at the Colvin Run Mill and taught visiting schoolchildren about mills and simple machines. Bob followed shortly after and began volunteering for the mill in his retirement in 1993. The two became invested in the mill and ended up being some of the first members of the Friends of Colvin Run Mill organization. According to Mike Henry, Manager of the Colvin Run Mill Historic Site, Marjorie "racked up over 25,000 hours of volunteering at the mill," and she and Bob worked to "raise and donate $50,000 to put toward projects to better the mill."
The Lundegards' commitment to historical preservation went beyond Colvin Run Mill. Their son, Paul Lundegard, shared that his parents' love and passion for preserving mills "brought them all over the country to other historic mill sites and into the arms of genuine friends, some of whom are even here with us [at the ceremony]." Paul commended his father for looking toward the future and always creating strategies to achieve his goals. He joked that if his father were here, he would say the renaming of the barn "is a lovely thing… But what can we do next? We're not done yet."
Cindy Walsh, the Director of Park Services for the Fairfax County Park Authority, helped conclude the ceremony.