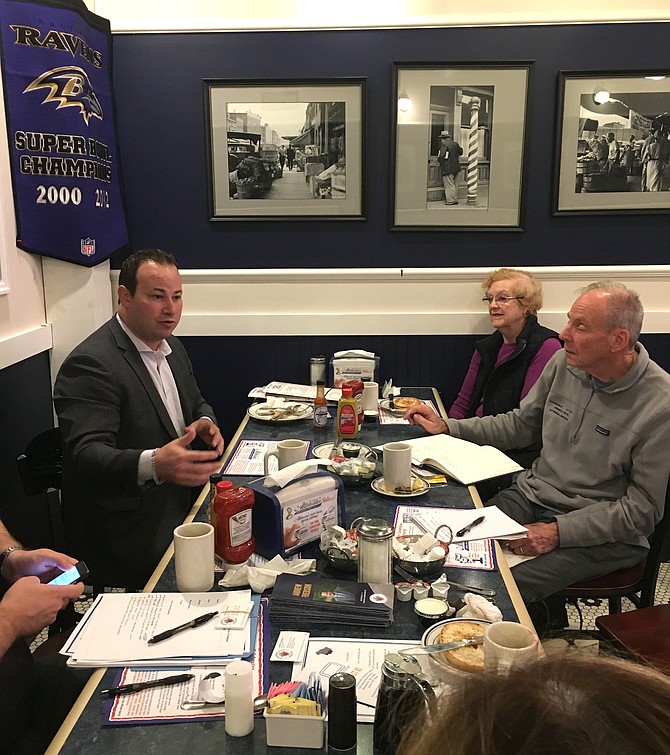 There was plenty to talk about: sidewalks, the County Budget, project delays, pedestrian and bike safety, climate issues, the new police chief and safe schools.
It was a lot to discuss during County Councilmember Andrew Friedson's monthly meet and greet, Fridays with Friedson, held Friday, Oct. 25 at Altman's Deli in the Cabin John Shopping Center.
A handful of District One residents showed up for the early morning meeting to bring their pet projects and peeves before their Council representative and learn what is being done, can be done or won't be done.
In the most-likely-won't-be-done-anytime-soon category was Bethesda resident and community activist Livleen Gill's question about sidewalks along the stretch of Seven Locks Road between Bradley Blvd. and Democracy Lane.
Gill said when she started asking the County for sidewalks along that stretch of road, her daughter was in second grade. That daughter, she said, graduated from college this year
"I live off Seven Locks Road and have a business off Democracy," she said. "I technically should be able to walk. Sidewalks are so important. I'm a registered dietician and I see people dealing with chronic diseases; obesity and diabetes."
Friedson said he was totally in agreement with Gill.
"It's a much-delayed project," he said. "I'm focused on pedestrian safety and road safety."
But he added. "It's a tough problem in time of tight budgets."
The delay had to do with limited money, and therefore what the community has to wait for, he said.
Sidewalks along Seven Locks Road have been in the budget before and been cut or delayed, Friedson said. This year, the recommendation was for a three-year delay for the project.
"I fought to not have a delay, zero delay," he said. "We got a one-year delay."
The battle, he said, is to be sure that project stays in the budget with only a one-year delay.
Montgomery County adopted a Vision Zero program [in November 2017] for pedestrian and bike safety, Friedson said.
"It's not like we aren't talking about these things," he said.
That was when Karl Held of Potomac spoke up. Held is a member of the Sierra Club and of the Montgomery County Faith Alliance for Climate Change.
He brought in the problem of bike paths to nowhere, that should be connected to destinations or meet up with other paths to form a larger network.
"There is a bicycle path on Falls Road at Wootton Parkway that doesn't go all the way to Potomac," he said.
As with the sidewalk issue, Friedson agreed, but said it was a matter of priority and funding.
Here Friedson added a plug for his own pet project: growing the economy.
"We need more money, we need more revenue," he said. "We are not growing at the required rates. If we are going to keep up with the services we expect, we need to grow the economy."
There were issues of safe schools brought up by Elaine Arndt, a member of Moms Demand Action for Gun Safety.
On the recent nomination of acting Police Chief Marcus Jones as police chief, Friedson said he plans to support Jones.
And then, the ninety minute meeting turned back to sidewalks and bike paths, pedestrian and vehicular safety as relating to climate change.
"We are trying to keep the County focus on [reducing] greenhouse emissions," Held said.
Friedson has been supportive but he appreciates his constituents who to keep reminding him, he said.
District 1 is the most geographically diverse — and the most environmentally sensitive — in Montgomery County, spanning from the D.C. Line to the Frederick County Line along the Potomac River, including Bethesda, Cabin John, Chevy Chase, Garrett Park, Glen Echo, Friendship Heights, Kensington, North Bethesda, Potomac, Poolesville, Randolph Hills, and Somerset. Friedson's District is home to Montgomery County's Agricultural Reserve, the Capital Crescent Trail and the C&O Canal, and the Potomac River, the region's major source of drinking water.