Whether it was the number of cavities he's filled or soccer players he's coached, Dr. Richard O. Rice has made an impact on many lives in Burke.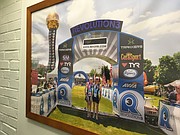 After 47 years, he's folding up his dentist chair and retiring.
"It's time, I'm happy to have known some great people," Rice said, "it's hard to let go."
He will see his last patient on Nov. 27, the day before Thanksgiving, have some well-earned down time, before moving to the coastal area of North Carolina.
He's prepared for retirement, and found a new nearby dentist for all his patients, but they're still going to miss him. "It's like going in and talking with your best friend," said Margaret Yowell, who's been a patient of Rice's since the late 1970s. "He looks out for you," she said.
For Rice, retirement was not a quick, easy decision. A few years ago, it was a thought, and then became a decision last May when he talked to his accountant, so he cut back to three days a week, and the wheels were in motion. He conferred with Dr. Rodney A. Alejandro, the dentist he's referring his patients to, and then had conversations with Realtors about selling the house and turning the dentist office into a separate au pair suite. He's one of the few in Northern Virginia that will miss his commute.
"Here's my commute," he said, as he opened the door to the rest of the house where he and his wife Carol live. "Five steps," he said.
He even transferred his phone number to the new dentist. "How convenient is that," said Jen Marland, an Annandale resident that's been Rice's patient since she was a child. "My parents still go here," she said.
"That is why, as I am announcing my retirement effective Nov. 27, 2019, I have taken great care in finding a fellow dentist who can meet your future dental needs with the same level of clinical and personal integrity you have come to expect," said the announcement on his website.
THE RICE FAMILY was well-entrenched in the Braddock Road community. Dr. Rice coached soccer at the Braddock Youth club for 20 years.
His wife Carol coached at Lake Braddock HS where she coached future professional soccer star Mia Hamm, and played for an adult soccer team called the McLean Redshins. Their daughter Emily graduated from Lake Braddock before moving away and raising her children. She now teaches at Mount Vernon Elementary School in Alexandria.
Carol Rice also coaches a team in the Southwest Youth Association out in Centreville. She may continue volunteering when they get to North Carolina.