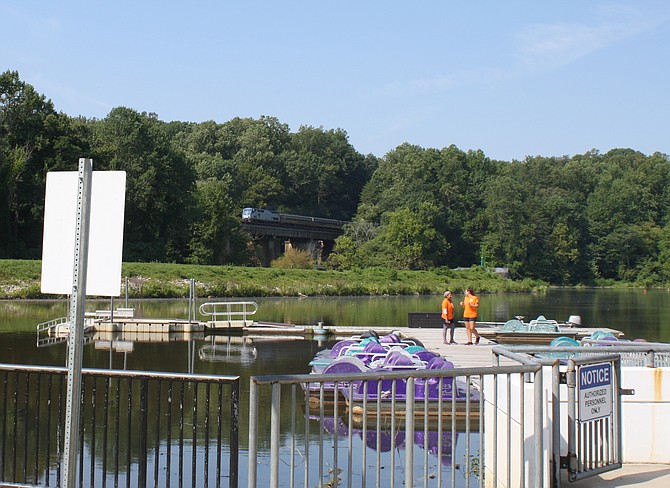 On Tuesday, Oct. 28, the Fairfax County Board of Supervisors voted unanimously in favor of a financing plan for the dredging of Lake Accotink, ultimately saving the lake.
Situated in both the Braddock and Lee Districts of Fairfax County, Lake Accotink has long provided opportunities for outdoor recreation and serves thousands of visitors every year. However, in recent years, the Lake has begun to fill with sediment, and the County is taking action to ensure the Lake can be saved and maintained so that the surrounding environment stays intact, and the community can enjoy all it has to offer.
This move by the Fairfax County Board of Supervisors comes after several management options were studied and presented to the community. The extensive public input received coupled with additional analysis for lake management options informed the proposed management plan. To date, a total of six public meetings and workshops have been held with the community to discuss Lake management. There was both a Natural Resource study and a Lake Management Study conducted by Park Authority. Through these studies and after much public input, Park Authority has recommended a dredging strategy to save the lake. This strategy entails the following:
Dredging to restore the lake to an average depth of eight feet
Pumping sediment to an unused portion of Wakefield Park for dewatering and disposal
Hauling sediment to a closed quarry using Braddock Road to the Capital Beltway
Funding a maintenance dredging program to maintain the lake
The estimated cost of the initial dredging project is $30.5 million. The Board will pursue a loan from the Virginia Clean Water Revolving Loan Fund by submitting a loan application in the summer of 2020 to the Virginia Department of Environmental Quality. It is anticipated that the loan will be approved in the fall of 2020 and dredging set to begin in January 2021. Additionally, the Board approved an initial wet dredge of the lake to an average 8-foot depth. Regular dredging on a much smaller scale will continue in future years with annual cost of $2.013 million to maintain the lake and prevent further issues. This is much less than the $50 million the county expected last year. As plans are officially engineered and construction strategies are identified, the Board will continue to keep the community and Friends of Lake Accotink Park updated.
"Protecting our environment and outdoor spaces is a priority of mine and I'm thrilled that the Board approved this financing plan. As Chairman of the Budget Committee, I was pleased that we could reach an agreement on how to finance this much needed improvement to the Lake, and because of that agreement, we can save Lake Accotink. This is something we all have been working towards for quite some time" said Supervisor Jeff McKay (D-Lee). "I was glad to partner with Braddock District Supervisor John Cook on this effort. Thank you to everyone involved, including Supervisor Cook, the Save Lake Accotink group, and all our wonderful community members for your critical efforts to raise awareness on this important issue! I look forward to our continued progress."
"This is a great day for the people of Fairfax County," Supervisor Cook says. "The amount of community involvement that came with saving the Lake was something we have never seen before. I am thrilled that we are finally saving Lake Accotink forever!"
Supervisor Cook thanked Lee District Supervisor Jeff McKay for his partnership on this effort and the group Save Lake Accotink for its critical efforts to raise awareness and garner public support.