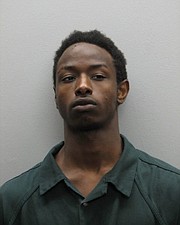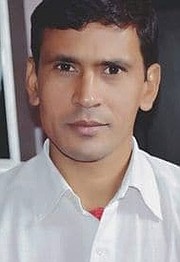 Born in Nepal, Resham Bajgain came to America for a better life for himself, his wife and their young daughter. They settled in Centreville, and Bajgain worked full time at Wegmans and part time at the Franklin Farm Sunoco Station.
He was working at the Sunoco in the early morning hours of July 4, 2018 when a teenager destroyed his dreams and ended his life. Last week, in Fairfax County Circuit Court, a jury convicted Mohamed Abdullahi of first-degree murder and recommended he spend 60 years in prison.
"It was a brutal, unprovoked attack," said Assistant Commonwealth's Attorney Mark Sullivan. "This defendant willfully, deliberately, maliciously and premeditatedly strangled and beat the victim until he was dead."
Police responding to what they thought was a robbery saw Abdullahi – who matched the suspect's description – in the parking lot and arrested him. They also found Bajgain's lifeless body on the floor, behind the counter. Yet instead of being remorseful, said Assistant Commonwealth's Attorney Ryan Bredemeier, Abdullahi was proud of what he'd done.
"When told he was being charged with murder, he said, 'Just murder, huh?'" said Bredemeier. "And when police tell him they don't know the victim's name, he said, 'Of course you can't identify him, his face is smashed in.' He then bragged, 'Imagine being me, right now – just 19 and already caught a body.'" And during Abdullahi's trial, police Officer Richard Boaz said he heard him say these things.
THE ENTIRE CRIME was caught on the Sunoco convenience store's surveillance camera, and the jury watched it. Police officers and others also testified in court. A customer, Stephen Briscoe, entered the store during the incident, and Abdullahi ordered him out and then followed him outside and tried unsuccessfully to borrow his phone. Abdullahi also tried to snatch another person's phone through his car window before returning inside. That's when Briscoe called 911, and officers arrived within three minutes.
Police Officer Andrew McPherson testified that Abdullahi wouldn't stop running and get on the ground when he told him to, so Officer Aaron Ciarrochi pepper-sprayed him. Officer Nathan Updike said Abdullahi shouted racial slurs at them and charged at Ciarrochi before being taken into custody.
Then K9 Officer J. Kevin Clarke went inside the store to talk to the clerk to see if a crime had occurred. "There was merchandise strewn about and blood in several locations," he said. "The clerk [Bajgain] was tucked up under the counter; I observed no vital signs."
Also responding was fire Capt. John Haywood, a paramedic. He said Bajgain, 40, had "a head injury with bleeding and a skull deformity, plus face lacerations. He was confirmed dead at 1:38 a.m."
Meanwhile, patrol Officer Erik Davis checked the parking lot for weapons and discovered a fire extinguisher lying on the ground about 100 yards from the Sunoco. He testified that he saw a "red substance on it and a dent in it."
On the video, Abdullahi walks into the store and calmly tells Bajgain that his friend was just stabbed to death. "Please let me use your phone, or I'm going to take it," says Abdullahi. "I'm going to call my older brother. My best friend was just killed … for something I did."
Bajgain dials the number Abdullahi tells him to, but the call doesn't go through, Abdullahi starts trashing the store, knocking merchandise around. He yells at Bajgain, "What is the first number to use this phone?" But Bajgain doesn't understand what he's saying, and an angry Abdullahi hits him, and continues the blows after the clerk falls to the ground.
"Tell me the first number, or you will die tonight," says Abdullahi. "I don't understand," says Bajgain. Then Briscoe enters and leaves, with Abdullahi following him out. Bajgain stands but is clearly dazed from the beating. Abdullahi returns and knocks him to the floor several more times, repeatedly screaming, "Use the phone," and threatening his life.
Bajgain never fights back, and Abdullahi strangles him until he falls again. Abdullahi then looks around, sees the fire extinguisher, grabs it and – while still holding onto his victim – swings it into Bajgain's head. He then leaves and the clerk takes his last breaths before dying.
Dr. Jocelyn Posthumus, the forensic pathologist/medical examiner who did the autopsy on Bajgain, said he'd sustained 23 blunt-force trauma injuries to his head, seven to his neck region, 10 to his extremities and three to his torso. Blood vessels in his eyes had hemorrhaged, and he'd inhaled blood. He also had fractures to his nasal bone, top of skull, base of brain and larynx (part of the windpipe).
"Below the Adam's apple, the bone was broken on both the right and left sides," she stated. "This indicates significant neck compression, indicative of a strangulation." She said the eye hemorrhages also resulted from strangulation, and his mouth also suffered severe injuries from a "significant impact."
Posthumus detailed the head lacerations and fractures, noting that the force of the blows to his brain "was so great that it caused the brain to shift and move inside the skull." Ultimately, she said, blunt-force trauma to the head and strangulation both caused Bajgain's death.
The jury also heard a recording of a phone call Abdullahi made to a friend from jail, three days later. In it, he complains he broke his hand while beating Bajgain and boasts that he wasn't even "turnt" – slang for drunk – when he did it.
The defense called a woman who'd let Abdullahi live with her family after his parents threw him out for previous legal troubles. She said she wouldn't let him in, a couple hours before the killing, because she smelled alcohol on him. But Officer McPherson then said he spent hours in close proximity to Abdullahi afterward and didn't smell any alcohol on him.
Before closing arguments, Judge Brett Kassabian told the jury of nine men and three women they could find the defendant not guilty, or guilty of first- or second-degree murder or voluntary manslaughter – and he explained the elements of each offense. A first-degree murder must be malicious, willful, deliberate and premeditated.
"[Abdullahi] picked up that fire extinguisher and swung it at the victim's head, unprovoked," said Sullivan. "This is the definition of 'malicious.' 'Willful, deliberate and premeditated' means a specific intent to kill adopted before the killing, for any length of time."
PLAYING THE VIDEO AGAIN, Sullivan told the jury, "Seven times [Abdullahi] said, 'You are going to die.' That's intent – and he made that promise come true." The prosecutor also noted how, at one point, Abdullahi went into the store's office, saw himself on the computer monitor and smashed it, hoping to cover up his crime.
"Mr. Bajgain was 109 pounds, and Abdullahi tossed him around like a ragdoll," said Sullivan. "[He] did nothing to provoke a reasonable person to act this way."
Public defender Robert Frank contended Abdullahi was under the influence of drugs or alcohol and, therefore, couldn't form intent. "He wasn't there to kill anyone," said Frank. "His emotions took over [and] he lost control. He saw Mr. Bajgain's inability to make the phone call as an affront."
But, countered Sullivan, "Is it reasonable to kill someone because they can't make a phone work fast enough for you – while getting beat?" For an intoxication defense, he said the perpetrator must be a "fall-down drunk, with no idea what's going on – and no one testified to that, at all. And in the jail call, [Abdullahi] told his friend, 'I wasn't even turnt' – meaning high or intoxicated – 'when I did it. I was just mad.'"
Furthermore, said Sullivan, "After he finds the fire extinguisher, he adjusts his grip so he can swing it at the victim's head as fast as he can – that's premeditation. [Abdullahi] wanted to kill him. Afterward, he didn't want to use the phone, anymore. I ask you to find him guilty of first-degree murder."
And after some three hours of deliberation, the jury did just that.
Man Found Guilty of First Degree Murder
Jury recommends 60-year prison sentence.
In Virginia, after finding someone guilty of a crime, jurors get to recommend that person's sentence to the judge. So after convicting Mohamed Abdullahi of murdering Resham Bajgain, July 4, 2018, at the Franklin Farm Sunoco Station, the jury deliberated on the sentence it believed he should receive.
First, though, both the prosecution and defense called witnesses and again addressed the jurors. And since they'd already found Abdullahi guilty, Assistant Commonwealth's Attorney Ryan Bredemeier was now able to tell the jury about his prior convictions.
Loudoun County convicted Abdullahi of two counts of assault and battery, two counts of felony assault on a police officer, and one count each of destruction of property and felony malicious wounding, plus possession of alcohol by a minor.
Then Bredemeier asked Bajgain's cousin, Thakur Dhakal, to tell the jury about the victim and the impact his death had on his loved ones. Dhakal said they were born in the same town in Nepal, played together as children, attended school together and were friends. Bajgain also has three brothers.
After marrying and having a daughter, he worked in India to earn money to feed his family. He eventually came to America on a diversity visa, but it wasn't easy.
"His wife Dipa came to the U.S. in 2014 and lived with my wife and I for the next three years," said Dhakal. "But it took more than 2-1/2 years to get him here, so he stayed there and raised his daughter. She was 6 when he died."
Finally, in September 2017, Bajgain and his little girl arrived in the U.S., and joined his wife in Dhakal's home for a couple months. "We were each other's immediate family and best friends," said Dhakal. "I found a job for him and an apartment for them and they moved out. He worked one day a week at Sunoco and nights at Wegmans."
DHAKAL said Bajgain's death devastated his wife and child. "Dipa called me, crying, saying there was a detective at her door, telling her Resham was dead," said Dhakal. "Then she moved back to my house and is still there. Initially, she was so devastated, she couldn't do anything – she was crying all the time. My wife had to care for her, and I took care of her bills."
He also took time off from work to notify all the family members in Nepal and handle the funeral arrangements. Dipa was still unable to deal with daily life, so Dhakal also took her daughter to and from school. But he, too, feels the pain of Bajgain's loss, saying, "Even though he's not here, he lives in my heart – and it hurts."
Public defender Negin Farahmand then had Dr. Jonathan Deright, a clinical and forensic neuropsychologist, testify. He discussed the development of the adolescent brain, in general, but said he hadn't examined Abdullahi or his records. Deright said the brain's prefrontal cortex contains the personality, impulse-control and decision-making area that doesn't fully develop until the mid-20s. He also said being abused or being in a violent, negative environment could cause someone to have more bad brain connections than good ones.
Abdullahi's sister, Shamza, 22, said their family has seven siblings and moved to various cities with their parents, who were strict and physically punished her brother when he got into trouble. She said he has ADHD and didn't graduate high school and, while trying to get a job and his GED in early 2018, their parents kicked him out of their house.
Next, Luann Schutt testified that Abdullahi, a friend of her youngest son's, lived with them in Franklin Farm from February to July 4, 2018. Describing him as kind, funny, considerate and respectful, she said he was immature, but had no behavioral issues at her home. "At the time he committed this offense, you'd provided him with a loving home?" asked Bredemeier. "Yes," she replied.
Judge Brett Kassabian told the jurors they could sentence Abdullahi to anywhere from 20 years to life in prison, plus a fine, too, if they desired. Then the attorneys spoke to them, one last time.
"You are the voice of the community, and you speak for them through your sentence," said Bredemeier. "[You decide] what the sentence should be for someone who heartlessly and senselessly beats a man to death over 15 minutes and then hits him with a fire extinguisher to the head."
Requesting life in prison, he said, "I'm aware of [Abdullahi's] young age and what the doctor said today. But with this defendant's history of attacking and harming someone, the question isn't if he'll hurt someone again, but when. He's now been convicted of eight offenses – and six were for crimes of violence."
Bredemeier also noted that, for four of those offenses, Abdullahi either received just 5-30 days in jail or a suspended juvenile-detention sentence. "He gets breaks," said Bredemeier. "Then he stabs another teen; and on July 1, 2016, he's committed to the Department of Juvenile Justice. He comes out and gets a chance to get his GED and stop hurting people, but he can't."
On Jan. 4, 2018, Abdullahi was convicted of assault by mob and sent to adult jail for three months. "That was six months to the day before he brutally and viciously takes Mr. Bajgain's life," said Bredemeier. "Collectively, this tells us who he is and what he does, and his crimes ramp up until he kills. He chose not to stop; consequences mean nothing to him. He does what he wants and doesn't let anything stand in his way. When the victim is on the floor, gasping for breath, he stomps on his head. How much crueler could he be?"
Bredemeier said the four purposes of sentencing are punishment, rehabilitation, deterrence and incapacitation. He said Abdullahi deserves to be punished for terrorizing and killing Bajgain.
As for rehabilitation, he said teens make dumb mistakes, but this wasn't poor impulse control. "He beats and kills the victim because he wants to," said Bredemeier. "This is not how adolescents act – it's how this defendant acts. He can't be rehabilitated. He enjoys being cruel and is proud of what he did; he has zero remorse."
Furthermore, he said, "No amount of time you give him will deter him. It's already been tried, but it hasn't worked. His crimes escalated. Incapacitation is the only option to keep the community safe. He won't be stopped until somebody stops him.
"Mr. Bajgain came here for a better life, and his family was finally reunited for 10 months before this defendant violently and senselessly ripped him from his wife and daughter. [Abdullahi] killed him without a second thought and didn't care that he did it.
"Resham's little girl will grow up without her father. But in the jail call, [Abdullahi] tells his friend, 'I was on six news channels. Did you see me? I killed someone.' He's excited about it. The only way to keep this defendant from harming or killing another person is by sentencing him to life in prison."
THE DEFENSE asked for 30 years, but Bredemeier said the court system previously gave Abdullahi chances. "Is he going to defy all logic and do a complete turn-around?" asked Bredemeier. "No."
After some four hours' deliberation, the jury returned and recommended 60 years in prison and a $25,000 fine. Sentencing is scheduled for Nov. 22. Afterward, outside the courtroom, Dhakal called the jury's first-degree murder verdict "the most serious and appropriate choice. And the sentence makes us feel a little safer, knowing he'll be in jail for the next 60 years."
Pleased with the outcome, Assistant Commonwealth's Attorney Mark Sullivan said the jury "deliberated with thought and gave a sentence that both respected the victim and kept the community safe. This couldn't have been done without the fast response of the police officers, who acted heroically – including Officers McPherson, Ciarrochi, Updike and Clarke – and Det. Needels, who brought this case together in a manner enabling us to effectively prosecute it."