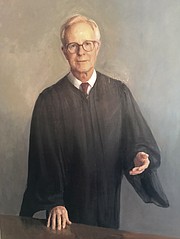 Across the nation, Judge Albert Bryan Jr. was known as the creator of the "rocket docket," a moniker that still holds for the swift handling of cases in the U.S. District Court for the Eastern District of Virginia. Over the course of his career, he authored landmark rulings on antitrust laws and discrimination in public schools. On Aug. 27, the lifelong Alexandrian and respected jurist died of pneumonia. He was 92.
"It is more than the end of an era," said Gregg Murphy, who was Bryan's first full term law clerk when he rose to the federal bench on the U.S. District Court for the Eastern District of Virginia. "No one may see in the next several lifetimes a jurist who has contributed as much to Alexandria and the nation as a whole, considering his important management of the court's docket that has been emulated throughout the country."
Bryan served for two decades on the U.S. District Court for the Eastern District of Virginia, famously presiding over the high-profile fraud case of presidential candidate Lyndon LaRouche, who Bryan sentenced to 15 years in prison in 1989.
Other notable cases included two decisions that he rendered soon after his appointment to the federal court by President Richard Nixon in 1971.
"Judge Bryan handed down possibly his two most famous cases right after coming onto the federal bench," said Murphy. "He held that lawyers of Virginia had been guilty of violating antitrust laws by price fixing, with the Virginia Supreme Court's imprimatur to their doing so, and a ruling that barred private schools from discriminating on the basis of race. Both cases eventually ended up in the U.S. Supreme Court and his controversial opinions were upheld."
Albert Vickers Bryan Jr. was born Nov. 8, 1926, in Alexandria. He was the son of Marie Gasson and Albert Vickers Bryan Sr. He graduated from George Washington High School then attended Virginia Military Institute before leaving to serve in the U.S. Marine Corps Reserve from 1944-1946. Upon his discharge he attended George Washington University for one year and then the University of Virginia Law School, graduating in 1950. That same year he married Marilyn Morgan.
Bryan practiced law in Alexandria until 1962 when he was appointed a Virginia State Circuit Judge. In 1971 he was appointed a U.S. District Judge for the Eastern District of Virginia, serving as chief judge from 1985 to 1991, when he took Senior Status.
"Those of us who clerked for him were privileged to see him behind closed doors in Chambers as he mulled over his decisions," said Murphy, who also clerked for Bryan's father on the U.S. 4th Circuit Court of Appeals. "He was resolute about making sure the judicial system treated everyone fairly but held the privileged accountable when they violated the trust bestowed upon them in society. Yet he was understanding and sensitive to those less fortunate due to the circumstances that burdened them in life."
Bryan followed in the legal footsteps of his father, Albert Sr., a federal district and later appeals court judge whose decisions helped end segregation in Virginia public schools. The federal courthouse in Alexandria bears his name.
Bryan's grandfather, also named Albert, was an Alexandria City Councilman and served as the chairman of the Alexandria Democratic party and president of the Old Dominion Boat Club from 1895 to 1908.
Bryan was preceded in death by his wife Marilyn in 2001, and a son, Albert Vickers Bryan III in 1992. Survivors include a brother, Dr. Henry Gasson Bryan; two daughters, Marie Bryan Lyerly (Maurice) and Vickers Beach Bryan; a son, John Morgan Bryan (Nancy); three granddaughters, Sarah Cramer Shields (Matt), Mary Todd Bryan and Elizabeth Morgan Bryan; and two great-grandsons, Albert John Shields and Cramer Clayton Shields.
A commemoration was held Sept. 4 at Belle Haven Country Club. In lieu of flowers, the family requested that donations be made in Bryan's memory to the charity of your choice.
"Judge Bryan's example is one that all of us should aspire to achieve, but likely won't," added Murphy. "His keen intellect and unquestioned sense of fairness always guided him to the right outcome."