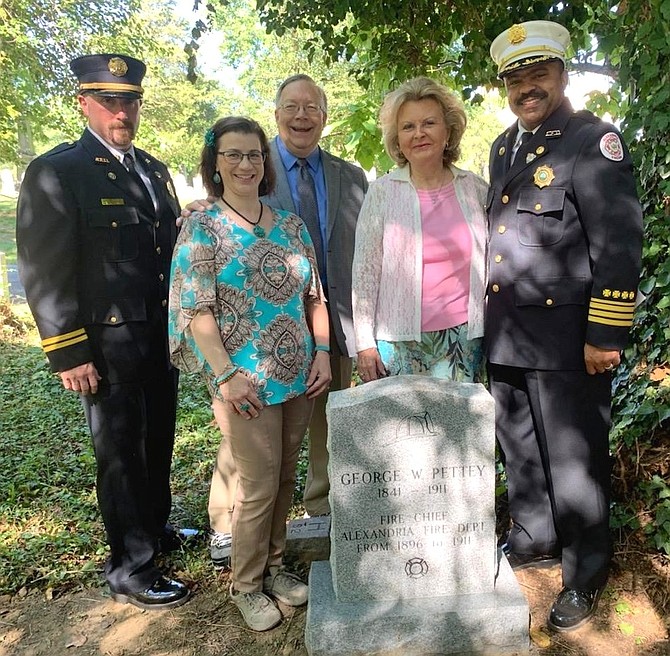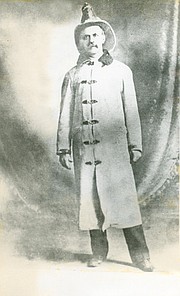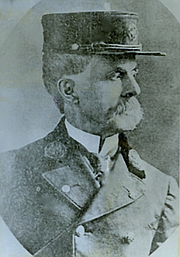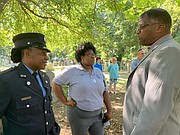 For more than 100 years, Alexandria Fire Chief George Pettey lay in an unmarked grave in Bethel Cemetery. That changed on August 30, when a headstone was dedicated to Pettey, who died in the line of duty on April 15, 1911.
"Today we are here to continue our vision of dedication to our community and to each other," said Acting Fire Chief Corey Smedley. "Whether our past, present or future, we take care of our own."
George W. Pettey, born and bred in Alexandria, was a saloon owner, firefighter and foreman who eventually became a Chief of the Alexandria Fire Department in 1876.
On April 15, 1911, Pettey was on his way to a fire on South Henry Street when he collapsed. He was transported to the Alexandria Hospital where it was determined that he had suffered a heart attack. Pettey became the first to die in the line of duty since the fire of 1855 when seven firefighters lost their lives battling a blaze.
Pettey was buried in Bethel Cemetery, and as recently discovered by the Trustees of the Friendship Veterans Fire Engine Association, in an unmarked grave.
"This was a combination of efforts from the Friendship Fire Engine Association and the Alexandria Fire Department," said AFD Captain Jason Kuehler. "We came together to get a headstone in place to honor one of our fallen."
Pettey was born around 1840 and lived on Union Street near King. Throughout his career as a saloon owner, he changed locations with city records listing him as residing at 19 South Union, 114 North Fairfax, and 120 North Royal streets. At the time of his death, he had been married twice and had three children from his first wife, Margaret Ennis, who died in 1887 and was buried next to Pettey.
Pettey began his Firefighting career by joining the Sun Fire Company. When it went defunct after the Civil War, he joined Hydraulion and by 1876 had become a chief of the department.
"Descendants of Chief Pettey are thrilled with this dedication," said Friendship Veterans Fire Engine Association Trustee Marion Moon, who was one of the first to discover the story of Pettey's unmarked grave. "They are out of state but continue to send funds to help maintain the gravesite."
According to Kuehler, funds for the headstone were provided by the Trustees of the Friendship Veterans Fire Engine Association.
"Ms. Moon contacted Fire Chief [Robert] Dube and informed him that Chief Pettey did not have headstone at his grave," Kuehler said. "She wanted to know if the Fire Department would be willing to assist in procuring a gravestone to honor him. We worked together to make this happen."