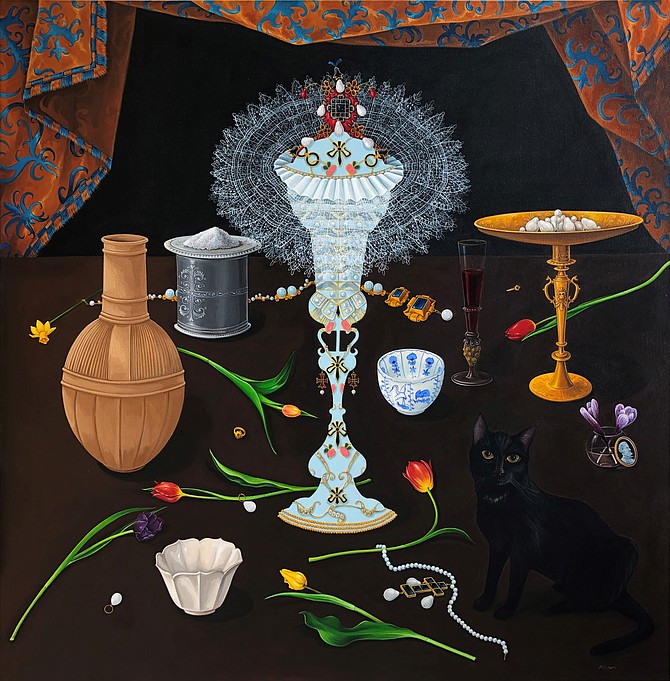 Greater Reston Arts Center (GRACE) presents Hidden Histories, a solo exhibition featuring work by painter Maremi Andreozzi (b. 1971, Alexandria; lives and works in Mount Vernon), on view Sept. 5, 2019–Jan. 7, 2020, at Greater Reston Arts Center at Signature, an innovative satellite gallery that presents a year-round schedule of exhibitions of local artists selected by GRACE's curatorial staff. An artist talk and opening reception will be held on Sept. 12, 6–8pm.
Hidden Histories will feature paintings inspired by the patterns, objects, and biographies from art and art history of overlooked female artists. An avid researcher, Andreozzi makes symbolic portraits of women artists and the female politicians, ambassadors, and patrons who influenced their lives. Each portrait appropriates imagery from the subject's own body of work and period-specific details of cultural production. The innovative portraits from her Painted Lady series focus on several lesser-known artists from the Renaissance through the 19th century. By depicting the artists as artifacts in the still-life tradition that they were known for, Andreozzi examines the challenges these women faced to be recognized in their artistic professions and the legacies they left behind.
The exhibition will feature Andreozzi's largest painting to date, The Archduchess as Painted by Clara Peeters (2019), in which she creates a new narrative by combining the history of artist Clara Peeters with objects that represent the Archduchess Isabella Clara Eugenia, an underappreciated and politically savvy sovereign ruler who was instrumental in ushering in the Dutch Golden Age.
Andreozzi received a BFA from Cornell University and MFA from Clemson University. She recently completed an international artist residency in Greve in Chianti, Italy.
Talk and Reception
Artist Talk and Opening Reception: Sept. 12, 6–8 p.m.
Food and wine provided by Balducci's Food Lover's Market.
All exhibitions and opening receptions are free and open to the public. Gallery hours are 11a.m.–5 p.m, Tuesday–Saturday. The Signature at Reston Town Center is located at 11850 Freedom Drive, Reston.
For more information, visit restonarts.org.