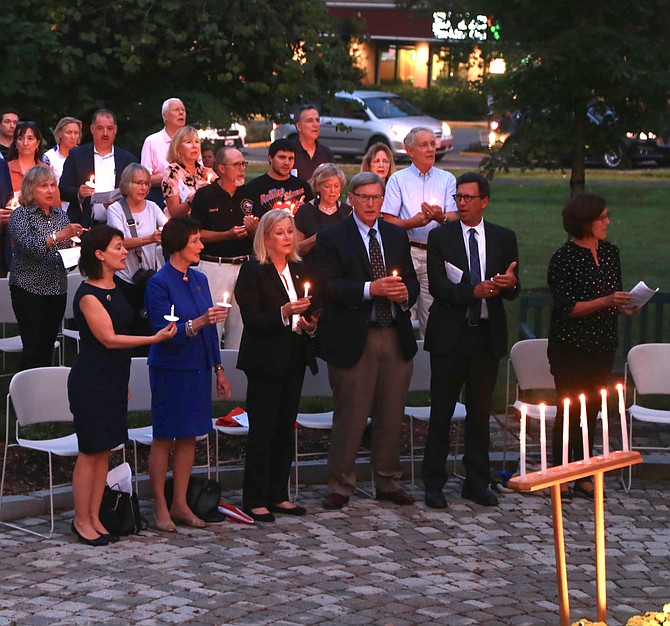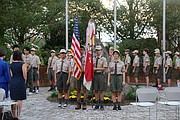 "We are here to remember," Frank Sesno, former CNN Washington bureau chief and now director of George Washington University's School of Media and Public Affairs, addressed the guests with a keynote speech. "First, we remember our friends and neighbors, Americans, and people from around the world who lost their lives that terrible day 18 years ago… We remember the unfinished lives. What they did – and what more they could have done. We remember how we grieved, coped, bore down, responded and rebuilt. But remembering is getting harder. So many things pull at our time and attention. The years pass. Many of today's first-year college students were not born when 9/11 happened. We have to work harder to teach what happened – and what it meant. To remember."
Sesno has been a Great Falls resident for 16 years. As bureau chief, he was responsible for reporting on 9/11 at CNN. When one of the hijacked planes was still in the air, Sesno's team was deploying a camera to the office's rooftop trained on the Capitol dome. Nobody knew what to expect.
At this year's ceremony, Andy Wilson, President of the Friends of the Great Falls Freedom Memorial, shared how one of the most significant days in American history unfolded.
Wilson remembered the chaos of that day: "It seemed the world was coming to an end. When I came home, I called my wife. She was on her way home. Our kids were out of school already. We got together as a family. Nobody knew what was going to happen." Wilson shared that there were a lot of rumors floating around at that time. Local radio stations reported a bomb exploded outside the State Department which was later found to be false.
Six residents of Great Falls died on 9/11 at the Pentagon. All of them lost their lives as passengers on Flight 77. The names of the victims were read out loud and six candles were lit to honor their memory. The reading of the Great Falls 9/11 Honor Roll was preceded by a rendition of "How Great Thou Art" by Dick Kunz.
Great Falls residents and county officials have been working together to find ways to commemorate a tragedy that lives on for them from days long past. Since 2004, the Great Falls Freedom Memorial became a place for healing and to honor the lives lost on 9/11.
"We appreciate the tremendous support from our local politicians," said Wilson. "State Senator Barbara Favola, Chairman of the Fairfax County Board of Supervisors Sharon Bulova, State Delegate Kathleen Murphy, and Dranesville District Supervisor John Foust. We appreciated them very much!"
The ceremony featured participation from the local Boy Scout Troop 55. The troop presented the colors in honor of 9/11, raised the flag, and led the audience in the Pledge of Allegiance.

The event concluded with a charge and benediction from Pastor of Smith Chapel United Methodist Church Dave Zuchelli as well as moving and patriotic "America the Beautiful" led by Dick Kunz.
Honoring Fallen Neighbors
The six weeping cherry trees located at the gateway to the Freedom Plaza honor the memory of:
1st Lt Richard P. Gabriel, USMC, Ret.
Ann C. Judge
Barbara K. Olson
Lisa J. Raines
Diane M. Simmons
George W. Simmons
9/11 Timeline to Remember
8:46 a.m. - American Airlines Flight 11 (traveling from Boston to Los Angeles) strikes the North tower of the World Trade Center in New York City.

9:03 a.m. - United Airlines Flight 175 (traveling from Boston to Los Angeles) strikes the South tower of the World Trade Center in New York City.

9:37 a.m. - American Airlines Flight 77 (traveling from Dulles, Virginia, to Los Angeles) strikes the Pentagon Building in Washington.

10:03 a.m. - United Airlines Flight 93 (traveling from Newark, New Jersey, to San Francisco) crashes in Pennsylvania.

2,977 people were killed, more than 6,000 were injured.