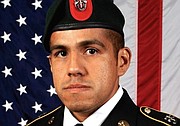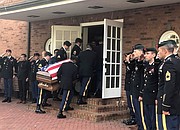 Veterans and first responders from across the Washington region gathered in Alexandria Sept. 10 to salute the remains of Master Sergeant Jose J. Gonzalez as the casket of the Special Forces Green Beret arrived from Delaware's Dover Air Force Base in preparation for burial at Arlington National Cemetery.
A police escort led a caravan through the streets of Old Town to Cunningham Turch Funeral Home on Cameron Street, where Sheriff Dana Lawhorne and former mayor Allison Silberberg joined members of the Alexandria Fire Department, American Legion and Patriot Guard Riders in silent salute to the fallen hero.
"It was important for us to be here today," said American Legion District 17 Commander Jim Glassman. "He was a hero and made the ultimate sacrifice for this country."
A private memorial was held at Cunningham Turch for Gonzalez, one of two Green Berets from the Army 7th Special Forces Group (Airborne) who was killed in the line of duty Aug. 21 in Afghanistan. Burial at Arlington National Cemetery took place Sept. 11.
Gonzalez, 35, died along with MSG Luis F. Deleon-Figueroa, 31, in Afghanistan's Faryab Province as the result of small-arms fire. Both were assigned to the 7th Special Forces Group at Eglin AFB in Florida and dozens of Special Forces Green Berets were on hand to salute their fallen comrade.
A native of California, Gonzalez had been with the 7th Special Forces Group since 2014, serving as an engineer sergeant. He had previously deployed to Afghanistan in 2016 and had deployed to South America, the 7th Group's primary area of responsibility, in 2014 and 2018.
Gonzalez was also deployed twice as a Marine, in 2003 and 2005, and deployed as an Army infantryman in 2009. He was posthumously awarded the Purple Heart and the Bronze Star and was also promoted posthumously to the rank of master sergeant.
He leaves behind a wife and two children.
"We came from all over," said one member of the Patriot Guard Riders. "Maryland, Washington, Virginia…the entire region. It's a sad day, but an honor for us to pay tribute to one of America's fallen heroes."