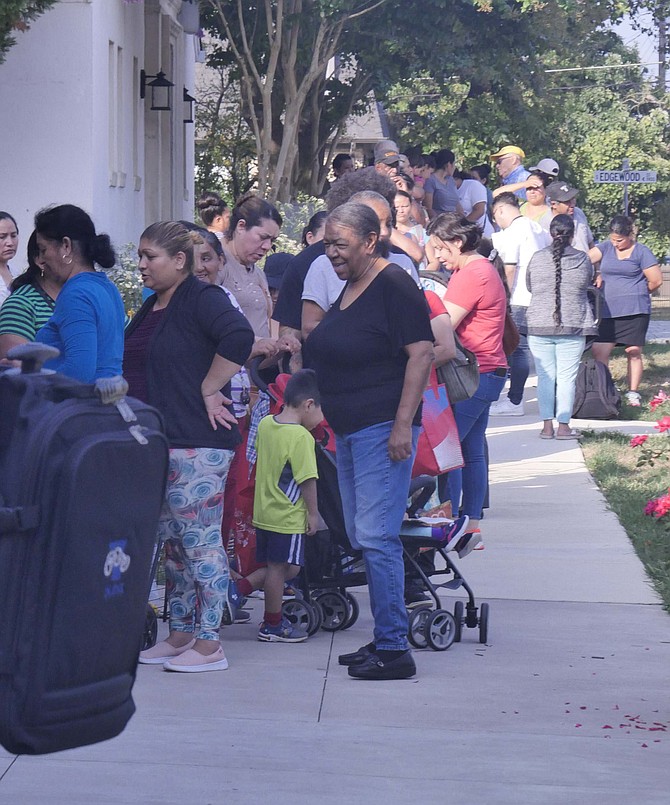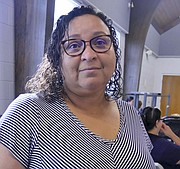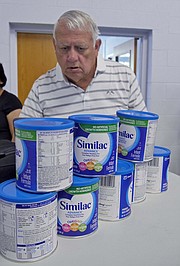 It is 9:30 a.m. on Sept. 11, and Our Lady Queen of Peace Catholic Church is already handing out number 137 to immigrant families waiting in line for their assistance programs. A large sign in the parish yard proclaims "Immigrants and Refugees Welcome."
Chrissy Gelson, co-director of Gabriel's Project that gives support to pregnant women and babies under one-year-old, says last week they served over 250 families between their three ministries for immigrants. She says Gabriel's Project serves anyone pregnant and infants. "We don't ask questions like their income or nationality." Gabriel's Project offers diapers, wipes, cribs and strollers, whatever the women need. "Formula is probably the greatest need."
The parish holds a food drive the second weekend of every month to stockpile the pantry shelves with donations of canned goods and other non-perishable items, but they always need more food than they have collected.
Andres Tobar, a volunteer who is checking in the women for Gabriel's Project, says the computer database records what a family picks up on any particular week. So, for instance, if a person gets a stroller one week, they don't get another one next week; or if they really need a stroller and there aren't any available, they can get one in the future. Sally Diaz-Wells, Our Lady Queen of Peace Social Justice and Outreach Minister, says they have volunteer drivers who deliver things like strollers to people who work or can't get to the church.
A woman steps up and contributes a small plastic bag. "It's little boys' clothes," she explains. Gelson says, "They very much have a community among themselves. They are great at helping one another." She says she sees a lot of the same people every week, "but we keep getting new ones."
Tobar says it's pretty amazing what these families survive on. "Many of them are undocumented, and it's pretty significant that they risk their own safety and the safety of their homes to come out publicly to pick up food."
Diaz-Wells says these programs came about ten years ago or so because "The Catholic Church wants babies to be born but we didn't help them after they were born. Now we have a network of angels nation-wide." While Gabriel's Project serves children under one-year-old, Matthew 25, in a separate church building, serves families and children over one-year-old with gently used clothes, small toys, dishes and utensils.
Families often get off the Glebe Road bus and walk to the church to stand in line early. They receive a number and wait at a table for their turn to go through the line for the pantry before heading to Gabriel's Project or Matthew 25. A bag loaded with pasta, beans, rice and canned vegetables, oil or flour is handed to each person in line. "Chicken or fish?" The volunteer says, "They get a choice of what we've got and today it is chicken or fish."
Next in line is the bread. "Today they can take 2-3 items. As you can see my bread runneth over," comments volunteer Jackie Smith who is a member of Our Lady Queen of Peace. On to "escoja solo 1" (one low-sugar cereal.)
Today there are 18 volunteers, many members of the congregation, including Ann Felker, who runs a nursery for small children in a room off the main hall. Diaz-Wells says, "It's like night and day between the peace and quiet here and in there." She points to the end of the room. "Back there is a stage where we have a summer camp for families who can't afford to send their children."
The food pantry and Gabriel's Project are available weekly on Wednesdays except for holidays from 9-11:30 a.m., and the Matthew 25 shop is open on Wednesday, Saturday and Sunday from 9 a.m.-noon and on Thursday from 12-3:00 p.m. except for holidays. Our Lady Queen of Peace is located at 2700 South 19th Street, Arlington.