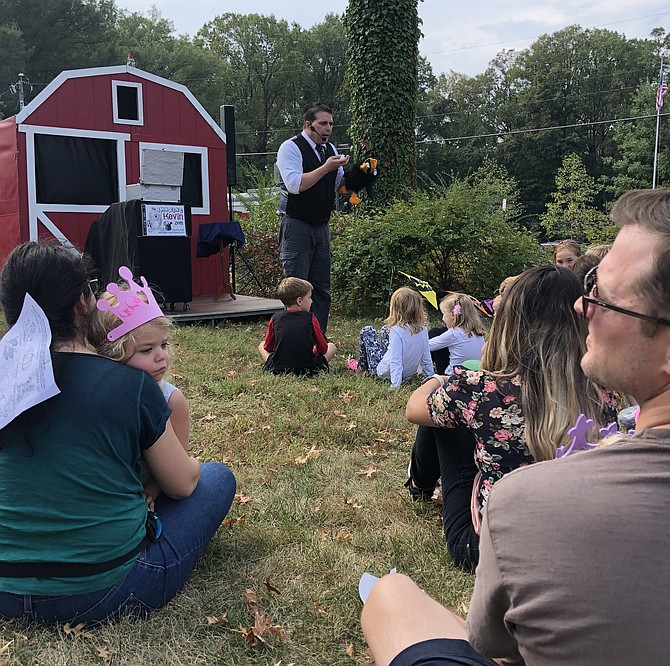 On Saturday afternoon, the McLean Community Center hosted their annual Harvest Happenings event for children and their families to celebrate the start of autumn.
Before even getting to the heart of the fall activities available at Harvest Happenings, children could be seen running to the next project, their faces painted with kitty ears or superhero masks, and carrying decorated pumpkins under their arms. A multitude of activities were offered inside and outside, from face-painting, pumpkin decorating, crown making, to other games like corn hole and agility courses.
A number of entertainers also shared their talents at the fall festival, such as the Amazing Kevin, Kidsinger Jim, and Squeals on Wheels petting zoo.
The performers and animals "draw a big crowd, so it's great they are so willing to come back and be a part of this event," said Andrew Jennings, the instructional program director at the McLean Community Center. Jennings was one of two driving forces of this year's Harvest Happenings and has worked for the McLean Community Center for 12 years. His counterpart for the event was Nadia Kader, who has been with the McLean Community Center for seven years and just recently took on the position of youth event coordinator at MCC.
"Harvest Happenings is a fun and free event for children and families, and it acts as such a great way to bring everyone together, while also introducing the community to everything MCC offers," Jennings said. Jennings and Kader shared too, that this year was special because not only has Harvest Happenings been returning for the community of McLean for more than 20 years, but it was also returning to the Community Center campus. Harvest Happenings had been hosted last year at the St. Luke's church in McLean because of major renovations the community center had undergone.
Among all the activities to do at Harvest Happenings, meeting Cappy the pig was at the top of everyone's list. Cappy is a miniature pig from Squeals on Wheels, the D.C. area's traveling petting zoo. Squeals on Wheels has been traveling to birthday parties, schools, and nursing homes for over 15 years. There is even an event offered called "Hoppy Hour" where the animals travel to companies during business hours and brighten up the offices. Cappy and his animal friends live on one of the last farms remaining in Potomac, Md.
The fun doesn't stop at the McLean Community Center, and Jennings assures new members that with all that is offered, "you'll always be able to find your tribe here at MCC." More events are coming up on the MCC October calendar; the McLean 5K is Oct. 5; and bring your beloved animals to the McLean Pet Fest on Oct. 20.