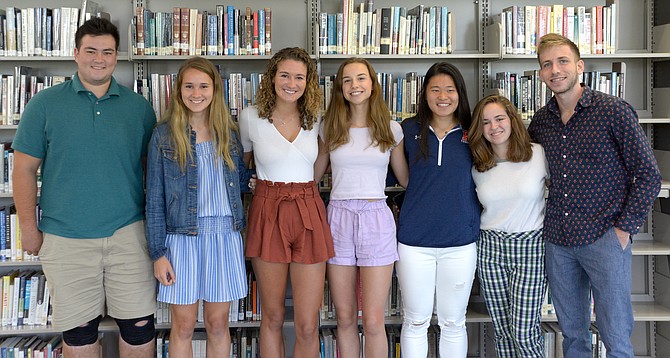 Seven Potomac School seniors have qualified as semifinalists in the 65th annual National Merit Scholarship Program.
These students were among 16,000 semifinalists nationwide, who represent less than 1 percent of all those who took the 2018 Preliminary SAT/National Merit Scholarship Qualifying Test in their junior year. About 15,000 of the semifinalists are expected to advance to finalist status. The finalists then compete for 7,600 National Merit Scholarships, worth more than $31 million in total.
The Potomac School semifinalists are Dan Alexander, Courtney Brandt, Christopher Gaston, Jodie Kuo, Addison Marin, Katherine Plaza, and Caroline Semel.
In addition, 25 Potomac students were named National Merit Commended Scholars: Julian Agolini, William Bailey, Anais Becker, Elizabeth Buchwald, Bliss Davis, Malachy Dwyer, Morgan Exley, Nikhil Gautam, Katherine Gould, Akshay Gupta, Jun-Young Hong, Narayan Kini, Taya Lasota, Anna Lerner, Sophia Leyva, Jackson Merrick, Kelsey Norton, Evrim Ozcan, Katherine Pommerening, Sarah Raman, Rebecca Shiff, Sofia Stitt, Edward Woo, Isabel Zhang, and Louis Zhang. Sophia Leyva and Addison Marin were recognized as National Hispanic Scholars.
"I am proud to see so many of our students achieving this national recognition," says Doug McLane, head of Potomac's Upper School. "Their accomplishment reflects well on our school and on each one of them."