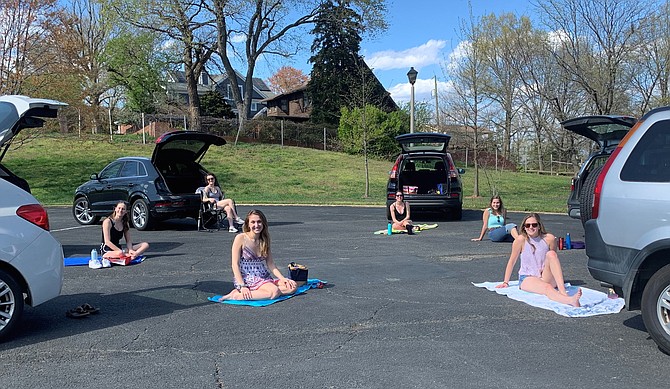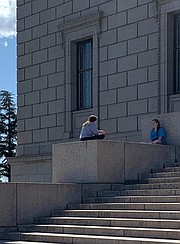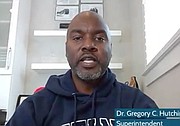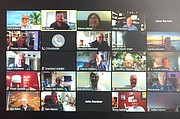 Social distancing has become the new normal as friends, neighbors and businesses look for ways to stay connected while staying safe amid the COVID-19 pandemic.
Businesses have taken to web conferencing while teens are finding ways to stay in touch in the absence of classes.
"It's a frustrating situation, but I think our teachers and staff at T.C. are handling it really well with getting out content," said T.C. Williams High School junior Maeve Waller as she was hanging out in a parking lot with a few of her friends. "It's nice that we can still do things like this – staying 6 feet apart but still be with our friends."
Governor Ralph Northam made the decision March 23 to cancel all classes for the remainder of the academic year. ACPS teachers and staff have moved as much teaching as possible online with daily video updates on the situation posted by Superintendent Dr. Gregory Hutchings Jr. on the ACPS website and social media pages.
"We know these are unprecedented times," Hutchings said March 30 as week three of the school closure began. "By the end of this week, we will be able to share more specific details of our extended continuity of learning plans effective after April 13 since our school buildings will remain closed throughout the academic year."
ACPS is providing free breakfast and lunch for any ACPS student or their family at five sites across the city, including three pop-up mobile sites and two new "grab and go" meal locations: Community Lodgings, 607 Notabene Drive; and Old Towne West Apartments parking lot, 500 S. Alfred St. Details can be found at the ACPS website.
A group of high school seniors from Saint Stephen's & St. Agnes got together March 30 in a parking lot to enjoy the outdoors but also practice social distancing.
"Our hope is to have graduation," said SSSA senior Liliana Dowling. "We don't have classes but are trying to stay connected as much as we can as a senior class."
The Alexandria Rotary Club has been conducting its weekly meetings via the web conferencing app Zoom.
"I think the consensus is that our virtual Rotary meetings have gone very well," said club president Sharon Meisel. "This is going to be a great way to stay connected and to keep our work on-going for however long we need to."
Northam's Executive Order of March 30 included a stay-at-home provision that is in effect through June 10 that prohibits any public gatherings of more than 10 people.
"Please, give us some grace and know that soon we will move into a routine where things will be more constant and predictable," Hutchings said in his March 31 video update. "Our team is working hard across the division to make sure our kids get an engaging education through the end of the school year and beyond."