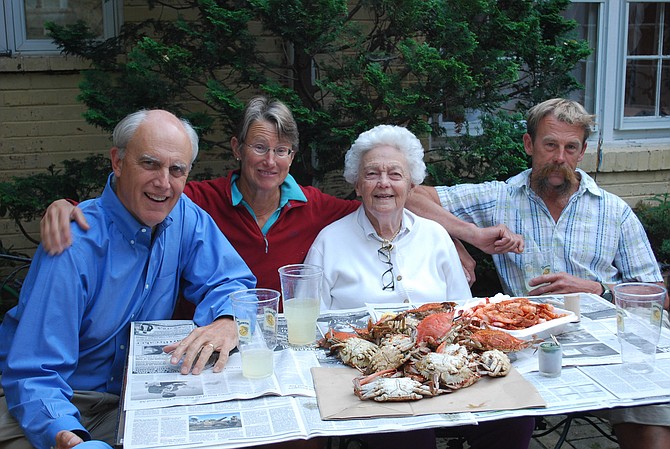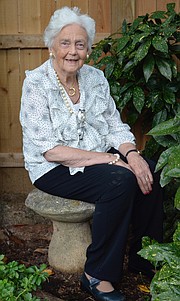 Mary Ragan "Polly" Webster, 97, died on Wednesday, April 8, 2020, of a brief respiratory ailment at Brighton Gardens Assisted Living residence in North Bethesda, MD.
She was part of the transformation of 1950s rural Potomac into today's vibrant community by helping organize St. Francis Church, create the Potomac Almanac newspaper and participate in a variety of civic improvements.
She was born in Baltimore to William Hughlett Naylor and Mary Ragan Macgill Gary, who met during World War I, when her father served in the Navy. He ended the war in the Azores and a tattered American flag from the subchaser he commanded is a family heirloom.
After mustering out, her father, who was raised in rural Trappe, Md. on the Eastern Shore, moved to Baltimore to find better-paying work in order to support his mother and sisters. He sold soft coal for Davis Coal & Coke in that city, as well as in Philadelphia, and his young family lived in Devon and Wayne, PA. They returned to Baltimore, living in a rented house on Wickford Road while their house was built at 912 Belvedere Avenue. Polly lived there from age four until she was 26.
She started first grade at the Calvert School on Tuscany Road in Baltimore. She took dancing classes at the Elkridge Club and learned to play tennis on the courts at St. Mary's Seminary, which was across the street from her family's home on Northern Parkway (originally called Belvedere Avenue). However, after she reached puberty, the seminary asked that she not use the courts to avoid distracting the seminarians.
One of her Roland Park playmates and a schoolmate at the Calvert School and the Bryn Mawr School was Scottie Fitzgerald, the daughter of F. Scott and Zelda Fitzgerald.
She attended Pinelands camp on Squam Lake in New Hampshire for six years, as both a camper and counselor. There, she met her good friend, Ferdinandine Széchényi, known as Bubbie, who was the granddaughter of Cornelius Vanderbilt II. The two girls used to roller skate in the massive halls of the Breakers, the Vanderbilt's summer mansion in Newport, Rhode Island.
She also spent many happy weekends and summers at the Catonsville home of her grandparents, Mary Ragan Gary and E. Stanley Gary, a Baltimore businessman who was the first chair of the McDonough School. The estate was known as Ups and Down. Her great-grandfather, James A. Gary, who owned the cotton mill town of Alberton, MD., was the Republican party candidate for governor of Maryland in 1879. He served as Postmaster General of the U.S. under President William McKinley in 1897-98.
In the seventh grade, Polly began studying at the Bryn Mawr School in Baltimore. It was a feeder school to Bryn Mawr College, where she attended freshman year until World War II interrupted her schooling. She made her debut at the Bachelors' Cotillion in 1941 and was a member of the Junior League of Baltimore.
During World War II, she worked three years at the Bendix Radio Research Lab in Towson, which assembled the nation's first ground control approach system. She worked both in its research lab and, in the summers, on the assembly line because she was adept at soldering. Flight commanders visited the plant to thank her and the other women who put together the radar systems that allowed them to succeed in the war's aviation battles. She also volunteered for the Red Cross Motor Corps, driving a blood mobile truck. She was scheduled to go overseas as a Red Cross driver just days before the war ended.
She met Lt. Tinsley Adams, who was stationed in Baltimore for the Coast Guard, at a party at the Hamilton Street Club for local officers. They courted at the Owl Bar in the Hotel Belvedere. Both were avid dancers.
They were married on March 30, 1946, at St. David's Episcopal Church on Roland Avenue and Oakdale Road, the church Polly attended as a child. Her husband joined his father's insurance firm, Johnson & Adams, located in the Investment Building in downtown Washington. They first lived in the gatehouse of the Marwood estate on River Road in Potomac. The couple then built a house on Piney Meeting House Road in Potomac, largely designed by Polly and her mother, which they named Rock Bottom.
She, along with her husband and their three children, Bruce, Ragan and Macgill, were among the early families to populate Potomac, when its commercial center was little more than a crossroads containing Mitch & Bill's Esso station and a neighborhood ballfield.
She was one of the founders of the Potomac Almanac newspaper and many issues were assembled and stapled at the family's dining room table. She helped found a women's garden club in Potomac, a cooperative whose members would plant, weed and improve their neighbors' yards, pooling their knowledge of local trees, shrubs and flowers.
She served as chair of the board of directors of Homemaker Services, a charity promoted by the U.S. Department of Health, Education and Welfare that gave assistance to low-income families in the District of Columbia. During the riots that engulfed the city in the late 1960s, she would drive to its headquarters in the riot zone, attired in a tweed suit, to check that the building was safe and services were functioning.
She taught Sunday school at Christ Church in Rockville and was one of the nine founding members of St. Francis Episcopal Church in Potomac. She researched the life of St. Francis to convince the other members to choose him as the church's namesake. She was a member of the original Chapel Committee in 1955 and later served as President of the Women of St. Francis, chair of the Potomac Country House Tour, Garden Committee Chair, and a member of the Vestry and Lay reader, among other parish leadership roles.
She was active in activities at the Landon School, where her sons attended and her husband was member of the board of trustees and chair of its executive committee. She headed the school's famed azalea festival in its early years.
She was a longtime member of the Sulgrave Club and the Chevy Chase Club, where she won golf championships. Later, she played paddle tennis there.
She and her husband held memorable Christmas Eve parties at their home, with dozens of guests helping trim the family tree, including a moat of moss Polly gathered each year from their yard.
The couple divorced in 1976. Adams, then president of Johnson & Adams insurance agency, died March 13, 1978.
On December 21, 1978, she married John Rouse Webster, who had been her fifth-grade teacher at the Calvert School, some four decades earlier. A gregarious pair, the couple lived at Rock Bottom and spent summers in Sandwich, NH, and winters in Hobe Sound, FL. He died May 7, 1993. In subsequent years, she was the companion of Lyttleton Gould Jr., a longtime family friend who also was widowed.
She lived in her Potomac home for 62 years, until a derecho storm on June 30, 2012, crashed two trees into the structure. She then moved to Bartholomew House in Bethesda and later to Brighton Gardens. Her friends and devoted companions and caregivers in the last two decades were Ellavee Cook, of Potomac; Wilbert and Jackie Cross of Poolesville; and Letty Diamena, of Silver Spring.
She died on the night after the pink supermoon, the largest full moon of the year, appropriate for the dedicated sky watcher. She had a passion for clouds, gardens, animals and the rest of the natural world. As a child, she often sailed in the Chesapeake with her father, an expert sailor. For years, she helped her daughter, Ragan, care for her daughter's horses and faithfully transported young rider and horse to equine competitions in several states. At age 72, she happily sat in the bow of an inflatable raft captained by her son, Macgill, during a 12-day trip across the north slope of Alaska's northernmost mountain range. She flirted with the bush pilot who joined the group on the first evening and identified several new species of cloud from her bow seat. She summed up her experience the day after completion by saying, "I'm glad I did that when I did, because I could never do it now."
She is survived by her sons, Bruce Adams (Peggy Engel), of Bethesda, and Macgill Adams (D.D. Van Vliet), of Anchorage, AK, and her daughter, Dr. Mary Ragan Adams (Frank Garry), of Fort Collins, CO.; three grandchildren, Emily Adams (Alex Thompson), of Takoma Park, MD, Hugh Adams of Washington, D.C., and Sam Garry, of Denver, CO., and a step-daughter, Betty Webster (Ben Bullard), of North Sandwich, NH; and nieces Louisa Naylor (Kimberly Rose) of Punta Gorda, FL, and Emily Naylor (Ben Dyches) of Wildwood, FL. Her brother, William Hughlett Naylor Jr., died in 2005.
She will be memorialized at St. Francis Church in Potomac at a later date. Gifts in her name may be made to St. Francis Church, the Chesapeake Bay Foundation, the Maryland Historical Society or UNICEF.