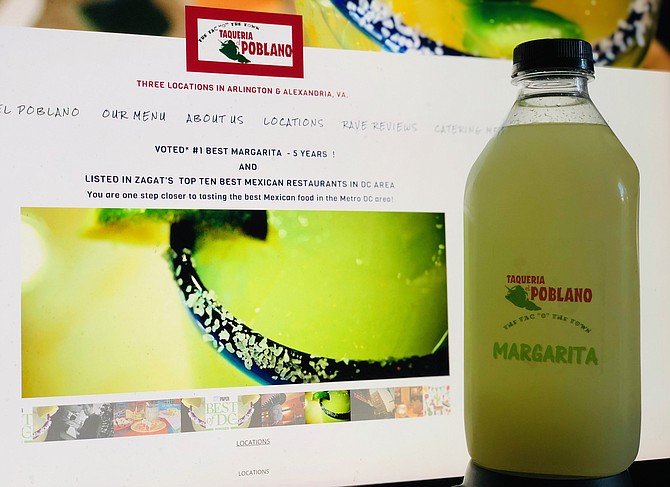 Cocktail lovers of the city, rejoice! Last week, Gov. Ralph Northam announced a change in the alcohol beverage control laws that temporarily allows restaurants to sell mixed drinks via delivery or takeout orders during this period of social distancing. While beer and wine had been permitted for several weeks, mixed drinks and cocktails were noticeably absent until the first minute of April 10, when the regulations were lifted.
Mayor Justin Wilson was spotted at 12:00:01 a.m. on April 10 in front of Pork Barrel BBQ, picking up the first legal carryout mixed-drink since the policy change. The drink – reported to be a "Wilson's Rum Runner" – was the first toast to the new rules.
Over the past week, restaurants all over town are getting into the spirits with their, well, spirits. Here are a few can't miss options for happy hour – at home.
Taqueria Poblano, 2400-B Mount Vernon Ave.
Arguably, Taqueria Poblano was one of the restaurants that led to the Commonwealth's change of heart. The popular Mexican eatery in Del Ray is known for its margaritas, and even served bottled margaritas at the start of the stay-at-home order until the VABC clarified its original mixed-drink policy, thereby sinking the plan. After that, it sold bottled margarita mix instead until Northam changed the state's mind on the matter. Now it's back to selling margaritas in sealed bottles – perfect for Taco Tuesday at home.
Captain Gregory's, 804 N. Henry St.
The classy, secluded spot nestled within Elizabeth's Counter is offering up its Speakeasy at Home series, featuring a choice of beverages that offer a little something special to dress up your evening. Pick up dinner at Elizabeth's Counter and add on a batch of cocktails to accompany the feast, ranging from a bourbon-based "Remember the Maine" to a gin-infused "Green, I Want Your Green," and more. Order two entrees online and select your four-cocktail batch of libations, then head home and toast the day.
Hummingbird, 220 S. Union St.
Hummingbird has been offering Dinner and Date Night bags since the shutdown, but those bags just got a little more potent with the addition of four different cocktail options. From blackberry sangria to vodka bloody Marys to rye or bourbon Manhattans, the elegant spot overlooking the river has the perfect accompaniment to the likes of pot roast, roast chicken and more. And served in Mason jars, they're just cute to look at, too.
Hops n Shine, 3410 Mount Vernon Ave.
The newly loosened ABC regulations have allowed Hops n Shine to get back to the "Shine" portion of its name, offering up both single cocktails as well as batches of drinks for the taking. Apple pie moonshine, a Shine-Arita with Belle Isle Honey-Habanero Moonshine, and a Shine Mule are all in keeping with tradition; or, go further afield with Manhattans, negronis and more. Order a sandwich – like the burger melt, or the "Eeezy Capreeze" – or some wings or tater tots to round out the meal.
Hope Nelson is the author of "Classic Restaurants of Alexandria" and owns the Kitchen Recessionista blog, located at www.kitchenrecessionista.com. Email her any time at hope@kitchenrecessionista.com.