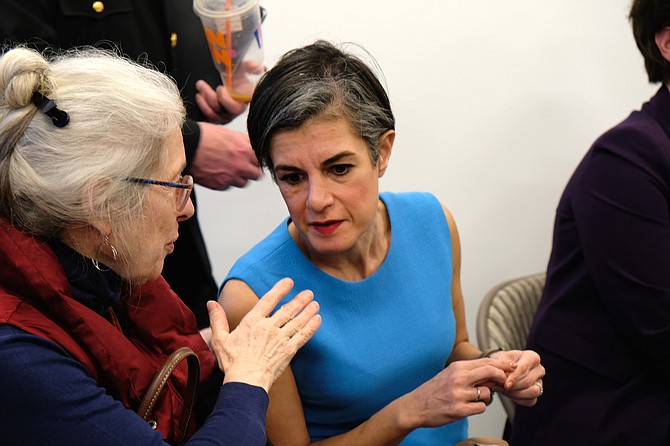 How do you keep people out of jail during a pandemic? On March 27th, Parisa Deghani-Tafti tweeted, "We've been working on that in Arlington!" She was referring to Governor Northam's encouragement to police to avoid arrests and imprisonment, when possible, to cut down on the spread of the COVID-19 pandemic.
On April 10, Deghani-Tafti said, "We started in early March talking to stakeholders, public defenders, the Arlington County Sheriff and the police. We could imagine jails were going to be a lot like cruise ships, only they are cruise ships you can't just offload, and they are "cruise ships times 1,000" because corrections officers leave a jail to go back in the community. We knew from the sheriff that if we thinned down the prisoner population we could space people out more [in the jail]. Their medical staff wouldn't be overwhelmed. We went at it in different ways: we told police to issue a summons whenever they could. Police were asked not even to book people at jail. We spoke to the magistrates and talked about releasing as many prisoners as possible."
Deghani-Tafti had already started efforts to reduce the jail population as early as January.
"Since early March we have asked the Sheriff for lists, looking at anyone who could be released, because they were either on pre-trial detention or there for probation violations. The public defender has been great," she said. "We did a lot of reconsideration of bond amounts. We haven't agreed on every case, but many. Those cash bonds were set over our objections."
Desghani-Tafti was elected on a platform that included eliminating some cash bond requirements, which she views as discriminating against the poor.

"We have not had a single positive case of COVID-19 in our jail, as a result of our efforts," keeping the numbers of prisoners as low as possible.
"We have done the same thing with our juvenile detention center. We had nine kids in there, and we identified two we could get out. The others we could not release because they were either charged with serious violent crimes or the state of their families was such that there was no place for them to go. Sometimes families are not willing to bring the kids back home, and sometimes it's a combination of those two things."
"If we can say it's okay to release the people we have let go during COVID-19, then why are we incarcerating them in the first place, using the most blunt of tools at our disposal?"

Deghani-Tafti made it clear there are red-lines. "In some cases we have asked for people to be held."
"We are going on a case by case basis," she said. Inmates who are on pre-trial detention in violent cases are not being considered for release. But the others can be monitored on personal recognizance or pre-trial supervision. Cases can be heard over phone calls versus in-person appearances, to maintain social distancing requirements.
Deghani-Tafti said one of the big reasons the number of COVD-19 cases in facilities in Arlington and Falls Church is still zero is because they stopped extraditing people from D.C. and nearby states. "That definitely helped. We didn't want to expose the deputies to that threat." Deghani-Tafti said that crimes such as distribution of very serious drugs will require extradition. Possession does not meet the threshold, but distribution does.

Deghani-Tafti said police are monitoring social distancing and occasionally have to remind people they weren't following the stay at home guidelines. They are getting calls about people gathering in parks, or having parties, but Deghani-Tafti has asked police not to engage too closely either, for their own protection. It's a tough position for police to be in — they are out there doing their job, but being told to do it differently.
COVID-19 will not derail efforts to engage in a restorative justice program for Arlington and Falls Church.
"We are forging ahead in the new normal," she said. "We had hoped to have a Restorative Justice Day (RJD) at the end of May, with interactive groups and simulations and much more. But we aren't calling it off, either, we will just be organizing it differently, virtually. We got the team together, and we all decided to do a partial RJD virtual meeting and then an in-person event later. The great advantage of virtual meetings is we can get experts to come to a zoom meeting that we could not get otherwise. … I am so committed to this that I would move heaven and earth, if I had to, to keep the momentum going."
Deghani-Tafti said she has been amazed at how her office team has continued to function despite the difficulties of working during the pandemic. "Victim witness has two people every day. We have a skeleton crew coming in on two rotations. About a third of the office is in, but we are all wearing masks and social distancing. The way everyone has continued to work on the mission of the office, the commitment they have shown, the way they have pulled together and dealt with this crisis, despite the fact many of them have a much more difficult home situation because of the crisis, is just amazing. I get very moved when I see how selfless people are and how committed to the community they are — our paralegals, attorneys, front desk staff."