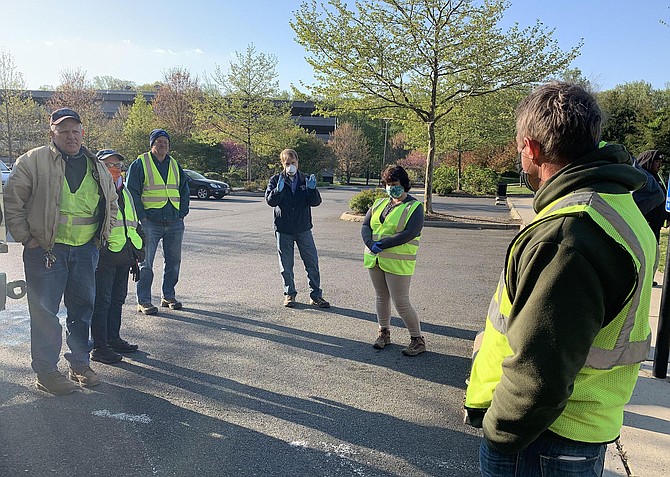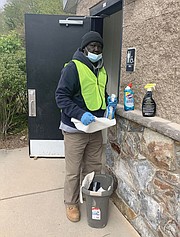 Since the COVID-19 pandemic began, people have been constantly reminded to stay home and wash their hands. But that's tough to do for people without homes or access to clean water. And locked restrooms, due to closures of libraries and other public places, only make matters worse.
But thanks to a partnership between Fairfax City and The Lamb Center – a daytime, drop-in shelter serving the homeless – this problem has been solved locally. And it was easy to do, since the connections were already in place.
Under the already-existing City Jobs program, some 20 homeless men and women from The Lamb Center are paid to do a variety of tasks for Fairfax City's Parks and Recreation Department. Via this innovative initiative, these workers clean and beautify City parks and other outdoor spaces for the public's enjoyment.
So – recognizing the increased vulnerability of its homeless citizens during the COVID-19 crisis – Fairfax City looked to City Jobs and The Lamb Center for a solution. As a result, the City made a special agreement to reopen its Stafford Park restrooms, weekdays, from 8 a.m.-8 p.m., and weekends, 10 a.m.-8 p.m. In exchange, a City Jobs employee cleans and maintains these restrooms at no charge to the City.
Calling them a "very welcome refuge," Lamb Center Board Chairman Tara Ruszkowski said, "The Stafford restrooms provide homeless residents sleeping in tents around the area a much-needed place to wash up, charge a phone and start the day on a good note."
Fairfax Mayor David Meyer is also pleased. "The City Jobs program has proven immensely successful for our community," he said. "We have the opportunity to keep our parks in excellent condition because of the fine work of the Lamb Center crews. This is so important now. With so many citizens trying to be safe but needing to go outside, many more residents are visiting our parks – and we're able to keep them clean and well-maintained."
So, added Ruszkowski, "It's not only homeless residents who benefit. Delivery drivers, police and families visiting the park know there are clean public facilities – a bit of normalcy in a tumultuous time."