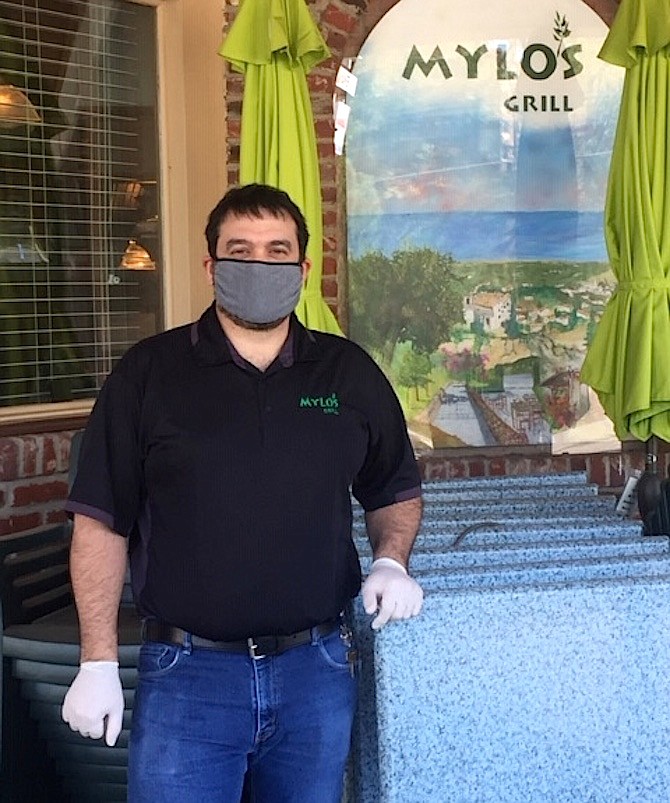 Chris Mylonas says when the pandemic was announced March 13, "It was devastating." March 10 had been the ten-year anniversary of when he and his father, Damon, established Mylo's Grill at Chesterbrook Shopping Center. Several days later the Governor's order closed restaurants for in-dining business.
He says the first thing he did was have a meeting with the employees telling them he hoped they could get through this sooner rather than later. He told them if they didn't feel comfortable with working that they would still have a job when they returned. "Only one waiter out of 28 employees was afraid to work. He lives with his parents. Mylonas adds all of the part-time employees did the honorable thing and gave their shifts to the full-time employees with families and kids.
Then it was crunch time, so "I said 'dad, go home.' I haven't seen him in five weeks. He is going stir crazy. He has worked his whole life." Chris and Damon have more than 60 years of experience between them in the restaurant business. Mylonas says his dad told him yesterday he was just going to get in the car and come to work.
BUSINESS is down 50-70 percent depending on the day, "and we are barely making it. Business is crawling, not walking. But people still order everything. They will ask me the special of the day." And he still makes prime rib on Friday nights, and it still sells out. The best seller is the chicken souvlaki. "We still use the same amount of chicken. I think people want comfort food."
Mylonas says they immediately did lots of mass marketing on the internet, and he signed up for Door Dash delivery service as well as offering home delivery. Still the most popular is the curbside delivery, where people call in orders and then pick them up outside the restaurant. "We run out with gloves and masks on. But there are some people who just want to walk in anyway and say hi.
There have been a lot of very generous people who tip the carry out orders in the same way as they would for in-restaurant dining." Others have bought large gift certificates because they know they will use them later. The neighborhood has kept them going.
Mylonas says they applied for an SBA Paycheck Protection Program loan but didn't hear back from their bank. "When all is said and done, it is very obvious what happened." He explains all of the big businesses got their loans, and the small ones didn't. "It's reprehensible." He says that when this is over, he is going to change to a small community bank.
THE BIGGEST CHALLENGE is not knowing how long this is going to last. "The employees are scared. They don't know what's going to happen next." Rent is still due; bills keep coming in. The restaurant is still using the same amount of gas and electricity. He says, "I know it is going to end, but then what next.
And for my part, the challenge is working 12 hours a day for 6 weeks straight and then taking measures at home where I do not come in close contact with the family due to possible daily exposure. I just want things to get back to normal where I'll be able to hug and kiss my kids again."
Mylonas bought an infrared thermometer to test his employees for fever each day. "Actually, I bought two." He is looking for more. "You never know. There might be a rule someday that everyone in a public place has to have their temperature taken, and there could be a run on thermometers."
Mylonas says the community has shown how much they care. "We're lucky to be in McLean. There are a lot of good hearts here."