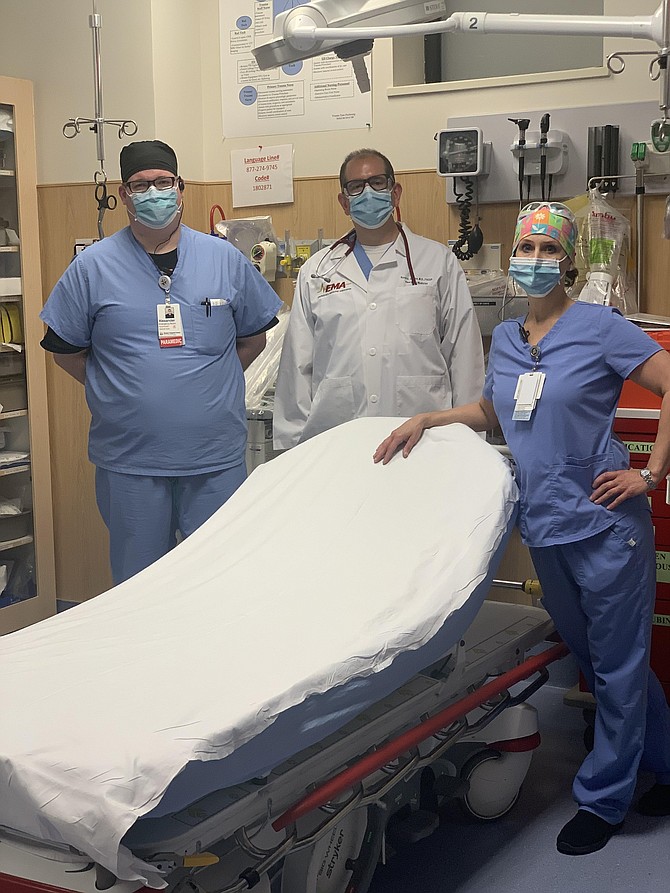 David Jacobs, MD, Chairman and Medical Director of the Department of Emergency Medicine at Reston Hospital Center HCA Virginia Health System in Reston, is worried. Patient numbers are down at the hospital's emergency room in recent weeks. He suspects individuals are avoiding the ER, fearing exposure to the coronavirus. Instead, patients are choosing to stay at home too long with true health emergencies, putting their lives at risk. For some, the outcome was not good, according to Jacobs. "We've seen patients with chest pains and stroke-like symptoms going on for four to five days before they come to the hospital. It's also a rare event to deliver a baby in the emergency room, but we delivered two in the ER this week," he said.
Jacobs stressed that Reston Hospital Center has taken proactive coronavirus mitigation measures to ensure its ER and the rest of the hospital are safe places to receive care. "We want patients to know we can take care of any emergency safely without them being at risk because of exposure to COVID-19," he said.
Safety starts at the door, according to Jacobs. There are limited points of entry into the hospital and clinics now. Comprehensive screening and temperature checks for staff and patients as well as universal masking are mandatory. As always, deep, detailed cleaning to prevent the spread of any infection between each patient visit is ongoing in the ER and throughout all care sites. As a safeguard, the hospital separates and isolates COVID-19 symptomatic patients to a dedicated section of the ER and a dedicated inpatient unit. Jacobs said, "We have nurses on each shift, only taking care of either non-COVID or COVID cases. They do not intermingle."
Another message Jacobs said he wanted to get across was for people who think they may have COVID-19. They shouldn't hesitate to come to the ER if they begin feeling shortness of breath. "Sometimes, patients are sick for a couple of weeks, then develop respiratory distress. I know of two patients who died at home of COVID-19 without coming into the hospital... It's simple to come in and be evaluated. We have tests for those exhibiting symptoms… and can get results in 45 minutes if admitting...Most patients with COVID-19, we send home because their symptoms are not severe. We sometimes treat them with antibiotics and telemedicine," Jacobs said.
Reston Hospital Center is a full-service, 231-bed acute care medical and surgical hospital serving residents in Reston and the Northern Virginia region. It is a Level II Trauma Center and was selected as one of only three "Top General Hospitals" in the Commonwealth of Virginia.