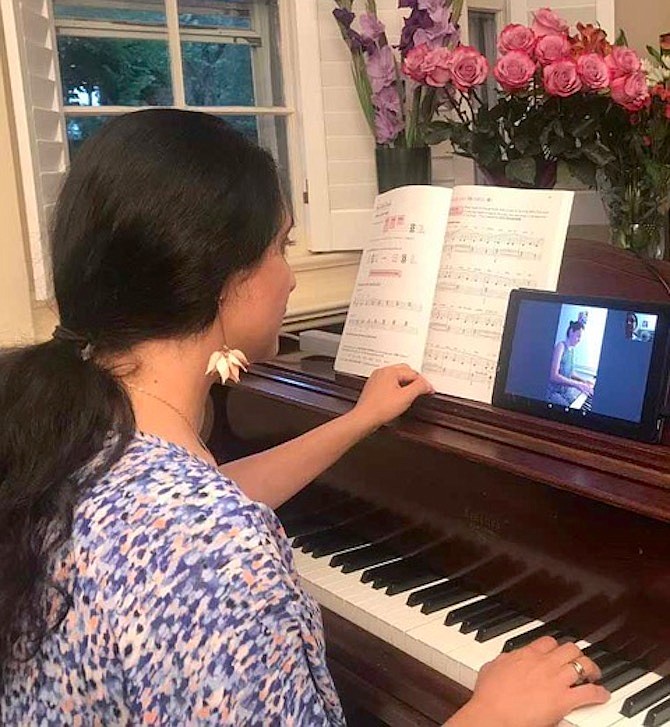 Kristina Markarian sits in front of her baby grand piano in her music studio next to her home in McLean. She is teaching a piano lesson on Zoom. Markarian watches her student's fingers move over the keyboard. She can see what the student is doing and if she is playing with the wrong fingers.
Markarian says online lessons are working, and she has 80-85 percent of the students she had before the pandemic. Markarian says when things were closed down in March one of her students said she didn't think she could come to the studio and asked if she could try lessons online. "I said yes; I would try it."
Although Markarian says it doesn't work for her younger students, "I think it is working from seven years old and up." Her youngest student, who is three-year-years old, was taking both vocal and piano lessons. Her oldest student, an 85-year-old woman, sings "apples and pears blossomed," the first line of her favorite song in Russian. Markarian explains, "She can already play the piano; she just wants to sing—pop music." Markarian hopes to have a couple of concerts a year for her students so they can see what it feels like.
"Music for me is not my whole life because I have my family, but it is very important. I put my 100 percent out there for it."
—Piano teacher Kristina Markarian
Markarian got her high degree in classical music and her second degree in vocal pop jazz in Moscow where she participated in international Russian festivals and competitions. She worked with a wide range of musicians, theatre actors, musical and movie performers. Markarian established "Music Hall" and taught 21 years in Moscow.
She moved to America more than 5 years ago and opened her "Music Hall" studio in McLean in September 2019. Markarian says she has a combination of American and Russian students from all over the D.C. area.

"I think I noticed in Russia music is more important for parents and for kids. Russian students want lessons 2 times a week or more while American students want to come once a week, which makes it harder to learn. It's more of a hobby. Here sports seem to be more important than music."
Singing came naturally to Markarian who began when she was about three years old. She hums her favorite childhood song— "A music sounds from the ship."
Markarian began singing professionally at about thirteen and later performed all over Europe, and has given several concerts since moving to the United States. She says, "Music for me is not my whole life because I have my family, but it is very important. I put my 100 percent out there for it."