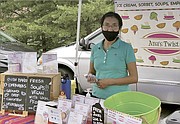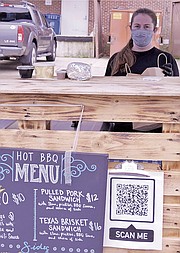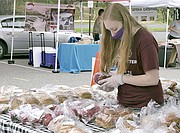 Shopping bags are lined up at six-foot intervals at the Lubber Run Farmer's Market at Barrett Elementary on Saturday morning at 8 a.m. This is the third year of operation for the Lubber Run Market, the newest Farmer's market in the Arlington area. A volunteer directs shoppers to the unidirectional flow, with 25 people at a time allowed in the market.
Rob Swennes, director of the Field to Table market says it took a few weeks to get up and running after the coronavirus restrictions were announced. The vendors all wear face masks and use gloves in the "grab and go" model.
"But I was astonished that the farmers spun on a dime to make it work. But when you think about it," he says, "look at the life they live...unpredictable weather, trucks breaking down." He reminisces that he worked for the Federal government and things didn't work like that.
This market has about 15 vendors ranging from fresh produce to Turkish and Ecuadorian specialties to bread, salmon, Lauren's Southern sweet desserts produced by an Arlington company, today's new honey stand and last week's new Old Blue BBQ stand. "Old Blue BBQ used to sell at conventions and big events but we aren't having those anymore so they are at the market."
The Baguette Republic table is piled high with loaves of bread, sliced and unsliced, pumpernickel, white and sourdough, the best seller. They also have muffins and three kinds of baguettes, which sell out every week. "And our focaccia sells out, too. Caramelized onion with jalapeños and red pepper with tomatoes and kalamata olives."
Ana's Twist offers a taste of her home country from the homemade Ecuadorian chicken and beef empanadas with special sauce or the freshly squeezed papaya juices or the unusual combination of soups such as mango gazpacho or cucumber and apple. She has added gluten-free and vegan empanadas this year. A couple stops in front of Old Blue BBQ based in Alexandria discussing whether 8:30 a.m. is too early for a brisket sandwich. Rachel Kuldell, Catering Manager, bags up a foil-wrapped sandwich with coleslaw, potato salad, and sauce for a hungry customer who is deliberating between eating it on the spot or saving it for lunch.
A woman stands on a line painted on the concrete in front of her favorite
vegetable stand pointing to a container of green beans — "that one," she says. "And one of the small melons. They were so sweet last week." The vendor picks up the items and places them in a bag for her. "Sometimes I wish I could pick up the melon to test it for ripeness, but this way is safer."
Swennes says people are used to the system and he hasn't heard of anyone getting sick in a market. He doesn't know how many people come to this particular market on a Saturday morning but the numbers at the Arlington Sunday Westover Market are about 1,400. Swennes heads off to do his own shopping, "whatever is fresh and in season but especially different kinds of peaches all through the summer and then I stock up at the end."