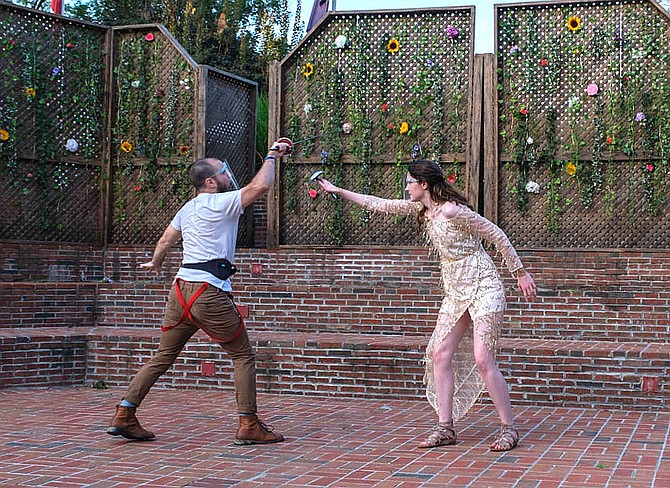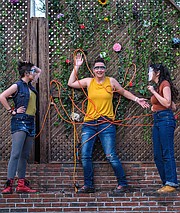 Deep in an enchanted forest, four young lovers are brawling over each other's affections while a troupe of actors prepares for the opportunity of a lifetime. Meanwhile, mischievous sprites play tricks on them all. It's all part of the City of Fairfax Theatre Co.'s production of "A Midsummer Night's Dream."
Magic, madness, mayhem and love all intertwine as William Shakespeare's raucous comedy comes to life in CFTC's first "Shakespeare in the City of Fairfax." The outdoor show will be presented this Thursday-Sunday, Aug. 13-16, at 7 p.m., at Veterans Amphitheater, beside Fairfax City Hall, 10455 Armstrong St.
It's being held outside because of the current pandemic, and every precaution possible is being taken to keep the actors and the audience safe. In fact, said CFTC's Artistic Director. Amanda Snellings, "Safety has been top of mind throughout the entire production process.
"We began with auditions and rehearsals over a video-conference tool and then held just a handful of outdoor, in-person rehearsals," she explained. "And the way Director Adam Ressa has made distance between the actors a part of the story underscores how we're all adapting to this new world and new way of making connections with one another.
Furthermore, the audience will be seated by household in 10-foot-by-10-foot sections of lawn space, with 10 feet between each space. People are welcome to bring blankets and lawn chairs. They may also enjoy picnic dinners with meals from one of four restaurants, The Auld Shebeen, Coyote Grille, Dolce Vita and High Side. Seating is available starting at 6:30 p.m.
All audience members, volunteers, cast and crew must wear masks, and temperatures will be taken at the check-in table. Hand sanitizer and masks will be provided for those who don't bring them. CFTC suggests attendees bring their own sunscreen, bug spray and water. And when leaving, they must take their own trash with them.
Tickets are $20, adults; and $15, students, via http://www.fairfaxcitytheatre.org/. Subject to availability, they'll also be sold on site. Tickets must be purchased by section, with only one household seated in each section. The show runs about 80 minutes, with no intermission.