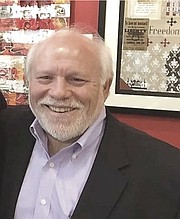 With deep sadness, I have to share the news of the sudden loss of one of our finest community members, Dave Evans. A member of the Mount Vernon community for 30 years, Dave's ethics, leadership, caring, and business skills made our community a better place. He devoted his time to help our schools, athletic associations and needs-based organizations; helping the neediest, youngest and hungriest members of our community. Dave also built La Prima Food Group, one of the largest catering firms in the Metro region, employing almost 200 people. He will be missed for all of those things and especially by his lifelong friend — me.
The loves of Dave's life were his "girls": his partner and wife of 47 years, Teresa; daughters Elizabeth, Margaret and Madeline; and granddaughter Eleanor. He was an over-the-moon, proud #girldad.
Working with numbers came easily to Dave, who transferred that skill to his early work as a CPA and later as a business owner. He used his financial skills to make things work for other people, as a long-serving FHYAA Treasurer, a board member of multiple non-profit organizations and an ethical employer. This numerical acumen was a natural accompaniment to his true passion: baseball. A life-long Mets fan, Dave channeled his love of baseball into supporting his girls as a softball coach, groundskeeper and league manager for more than a decade — as well as a regular at Orioles, and later Nationals, games.
Dave's decades-long service to Burgundy Farm Country Day School as a board member and benefactor helped to build on their commitments to the natural world, environmental learning and sustainability. These same values and commitments ran deep in his daily life, from his frequent bicycle commuting to collaboration between La Prima and organic farmers, including daughter Margaret's Groundworks Farm. These business collaborations and other commitments to sustainable business practices earned La Prima the distinction of being the highest rated green caterer in the Metro area.
Affordable housing along the Richmond Highway Corridor is never easy. While serving on the board of Good Shepherd Housing, Dave used his leadership, people, and spreadsheet skills to build relationships with CaptialOne and Fairfax County that accelerated affordable housing acquisitions. During the past few years, Dave has been a board member and Vice President of United Community (formerly UCM). As Allison DeCourcey, Executive Director, shared with me when she heard the news, "He was a game changer, playing a SIGNIFICANT role in raising up United Community with professionalism, needed expertise, and pragmatism, always focused on best serving our vulnerable community." Yep, that's Dave.
When we met the summer before our first year of high school, our difference in appearance belied the many similarities we shared in our commitments to people and community — and later in our lives to business and public service. Doing things the RIGHT way, with integrity, always mattered and was the central principle of Dave's life and work with others.

My favorite personal memories of Dave will always include his love of football and pride in blocking for the future only two-time Heisman Award winner, Archie Griffin (which made for much bantering over the years); the beat-up 1960 Studebaker which served as the high school class' shuttle; and our shared love of the Grand Canyon, hiking and exercise. It was his inspiration and our collaboration that created the Tour de Mount Vernon community bike ride, now in its fifth year.
During the past several months, our worlds have turned upside down, but we are grounded by the constant of family and the friends we choose to be our family. Dave's sudden passing has given many of us time to pause and truly reflect on the importance and preciousness of relationships, and that now is the best time to let the people you care about know how much they mean to you and the difference they've made in your life.
So my best friend from adolescence to becoming grandfathers, my brother, my advisor in all of life's living: I will be loving you and missing you forever. Thankfully, I am not alone and will be supported by so many others whose lives you impacted. Thank you for sharing a life rich with integrity and caring with your family, friends, employees and community.
For others who wish to share a public or private message or memory of Dave, please go to the link https://bit.ly/DHE20, where his family has set up a message board for the community.