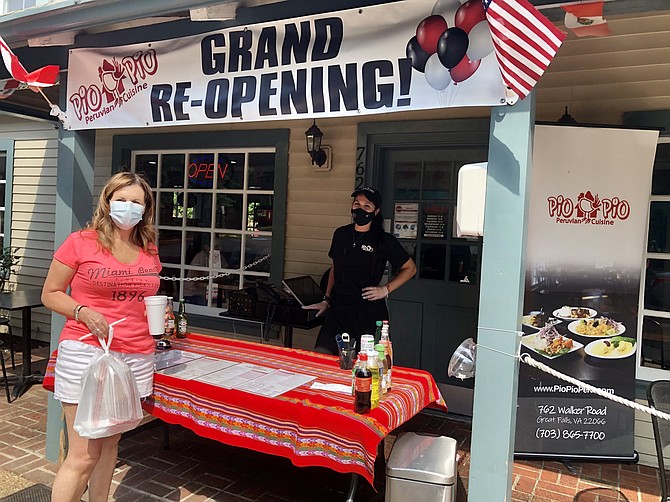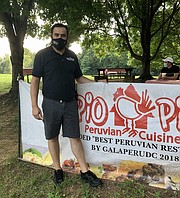 Salsa music fills the air inside the newly reopened Pío Pío Pollo, where customers dig into ceviche, lomo saltado stir fry, and other staples of Peruvian cuisine. The restaurant is nearing stable ground, leadership says, after it suffered a major blow from the coronavirus outbreak.
Danny Pain, Pío Pío owner and lead chef, told The Connection that the restaurant's biggest scare came in early March, when Virginia. Gov. Ralph Northam's emergency order limited restaurant service to 10 people at a time. Pain felt acutely a sense of uncertainty, coupled with dread, for the coming months.
"I was ready to throw in the towel," Pain said. "I thought that 2020 was going to be a wash, really; I wrote it off as a terrible year."
A week later, the restaurant halted indoor service completely, offering only carry-out and delivery services. At the peak of the downturn, Pain had to temporarily lay off five of his employees—nearly half of the restaurant's staff.
"Telling [employees] that, unfortunately, I don't have a job for you anymore...that's one of the hardest things I've had to do," he said.
Restaurants were allowed to resume limited indoor service on June 12, but Pain delayed opening his doors for another month, concerned by the effects of hasty reopening in other parts of the country.
"I noticed that other states were struggling with it, so we decided to wait on it," he said, "just to be safe."
Thankfully, Pain said, Pío Pío's takeout service propelled the restaurant through the downturn. Pain was eventually able to bring all of his employees back to work, and the restaurant is "thriving"—an upswing he attributes to a loyal base of customers.
"[I want] to thank everyone, the community as a whole. If it wasn't for them, we wouldn't be where we are," Pain said. "We're lucky that we've been able to stay in business, not only that, thriving...It's really a testament to the loyalty of our customers."
The restaurant now offers the dine-in option on weekends and after 3 p.m. on weekdays. Customers may also dine outdoors, where red-checkered picnic tables—placed at generous 6ft intervals—dot a shaded area across from the restaurant.
One customer, Sonia Alcocer, drove all the way from Centreville for the Peruvian cuisine, craving authentic cuisine from her country of origin. "I was like, okay, I have a craving for ceviche. Let's go to Great Falls."
Alcocer also views her meal as a way to support small businesses during the pandemic, and she was reassured by the restaurant's safety precautions.
"The way they care about the service during this pandemic, the wearing of masks," she said, "we walk in, we feel safe—that we can have quality in the food and quality in the service."
Where and When
Pío Pío Peruvian Cuisine, 762 A Walker Rd, Great Falls, VA 22066
Hours: 11 a.m.-9 p.m. Monday through Saturday, 11 a.m.-8 p.m. Sunday,
703-865-7700
info@piopioperu.com