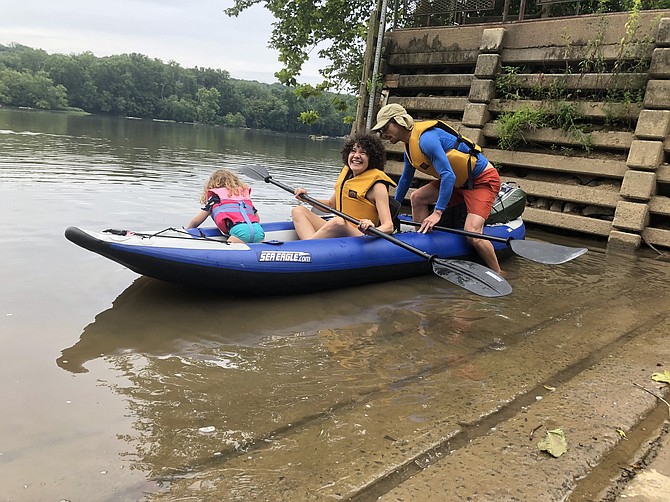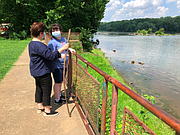 Neil Stern has been coming to Riverbend Park for decades to meditate, enjoy nature, or work under the park's canopy of trees. But this year, Stern's 20th working for the Fairfax County Park Authority (FCPA), he has new job responsibilities: encouraging visitors to wear masks, sanitizing boating equipment after it is rented, and taking other measures to mitigate the spread of COVID-19.
The park initially closed its gates in late March, only allowing visitors to enter on foot. But after opening again in May, staffers said, its parking lots quickly filled. Riverbend now fields hundreds of visitors on weekdays, and thousands on weekends—slightly higher than its usual summer numbers, according to park employees.
Stern said that these days especially, the natural beauty of the park draws visitors looking to recharge and immerse themselves in the green space.
"At times like this, I think everybody seeks nature," Stern said. "This is a treasure, Riverbend Park...We become like small children seeking the security of mom's leg, hanging out under the tulip poplars."
Jordan Libera, the Senior Interpreter and Program Manager at Riverbend, told The Connection that many are coming to the park seeking a change of pace from their usual at-home activities.
"There's nothing else to do, so they're staying local, enjoying some of the activities here: fishing, hiking, boating," Libera said. "There's always new adventures that you can have here."
Riverbend Park staffers are encouraging visitors to practice social distancing and wear masks. Stern said that visitors have eagerly complied with these guidelines, brought together by their shared desire to enjoy the park.
"We haven't had any pushback that I'm aware of; in fact, quite the opposite. I've found that people are very sympathetic," Stern said.
Libera added that while most visitors are "regulars" who frequent the park, Riverbend also welcomes visitors discovering the park for the first time. One such visitor, teenager Dwayne Johnson, learned of Riverbend after seeing a video of the Great Falls on TikTok, the video-sharing platform popular among teens and young adults. He and his girlfriend drove over an hour from Baltimore, Md. for their walk along the Potomac.
"It was a video about the beautiful scenery," Johnson said. "I saw it, and I was like, 'oh, that'll be somewhere fun that we could go to.' And here we are!"
While Riverbend's visitor center remains closed, the park has now resumed boat rentals, with a timed ticketing system to minimize contact among visitors. They are also offering virtual camps, scouting programs, and boating tours on the Potomac.
At the end of the day, Stern said, as long as prospective visitors are able to take necessary precautions, including mask-wearing and social distancing, they should not let the fear of COVID prevent them from going outdoors.
"There is plenty of space out here for people to socially distance," he said. "We want people to recognize they can still walk the trails and enjoy being with nature."