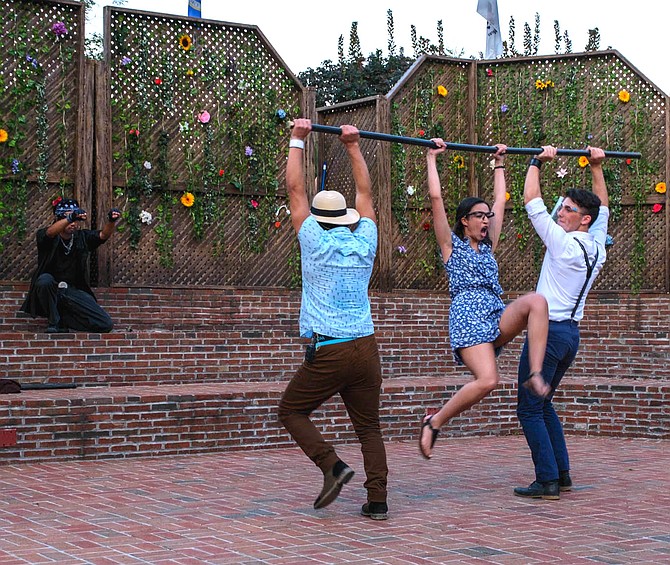 Much like Central Park's Shakespeare in the Park, the City of Fairfax Theatre Company hosted their own outdoor Midsummer Night's Dream. With pandemic risk still looming high, the director and staff took extra precautions to ensure audience and cast safety.
Since its inception, the Midsummer-Night's-Dream-outdoors idea has changed radically. Director and Vienna resident Adam Ressa recalls initially pitching it as only a reading before being asked to adapt it into a full play.
"It took a little bit of time; I really thought about it and decided just the chance to do these things live, for us to participate, have an experience with an audience, and make them enjoy something was worth it."
Ressa stressed the importance of safety in the planning of the play. He explains the process the crew used to ensure they surpassed safety requirements.
"The idea was that we would set it up so we would have these milestones and check back in. We would constantly adapt to make sure that we were complying with every single requirement but then on top of that, we were staying a step better."
DUE TO COVID-19 precautions, the actors only had 6-7 in-person rehearsals so blocking was difficult to master. Actress and Alexandria resident Mel Gumina, who plays Puck, enjoyed the chance to be over-the-top and brighten the audience's day.
"Our directors Adam and Andy have been absolutely fantastic with figuring out how to make social distancing fit into the context of this story, so you'll see none of our actors on stage actually ever touch each other. The way they've done that has been really interesting because it highlights a lot about what brings people together tears them apart."
Veteran costume designer and Fairfax City resident Lori Crockett said the costuming process changed drastically. Instead of shopping for all cast members, she and Director Adam Ressa came up with photographs for cast members to replicate using their closet.
"All of this stuff that you see in the play like the wall, the masks, and the armor - we provided. I dug them out of the costume lot that we have. If anybody didn't have a particular piece then I could go out and just shop for that one person as opposed to having to costume an entire cast."
According to audience member Heather Wautlet, who lives in Vienna, the outdoor environment added to the atmosphere of the play. She appreciated the effort of the cast members to bring live theater in the current situation.
"It is just what people need now to carry them away on a magical journey of romance, comedy, music, and fairies. In a time when theatre and gatherings seem impossible, they have created an experience that is a joy for our community, the audience, actors, and creative team."
Rising Mclean High School senior Benjamin Cudmore plays Demetrius, one of the lovers in the show. As one of the youngest cast members, he has learned a lot under the mentorship of older actors.
"There's one actor, in particular: Justin Winters, who plays Duke Theseus. He has been such an inspiration to me because he showed me how theater can be so fun and engaging to the audience. Justin has also taught me how to fence and how to hold a staff."
THROUGH ALL THE OBSTACLES, Ressa says the performance has been worth it to give actors a chance to perform again.
"That's the most fun; they've wanted to do this for so long and then they couldn't but we figured it out. We found a way to get them to be who they are and then we've also found a way to get people to sit and enjoy this safely."