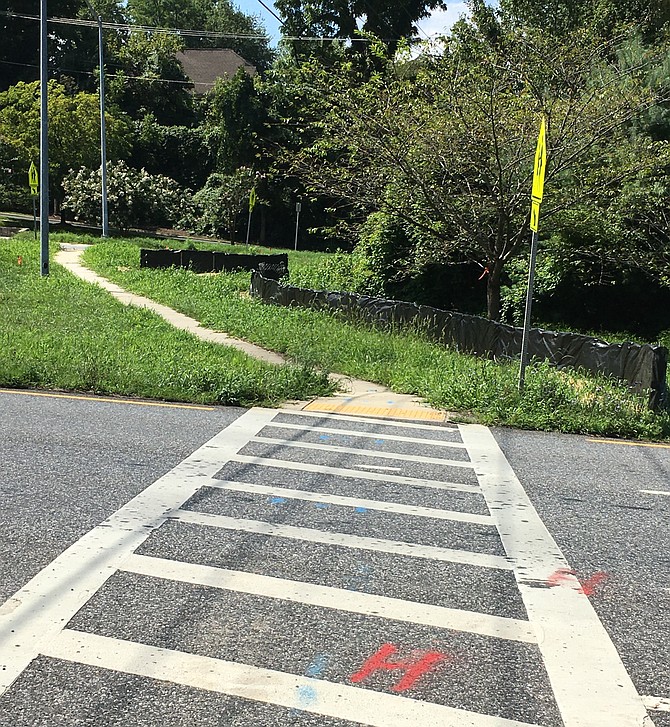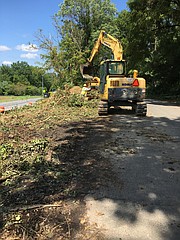 Maryland State Highway Administration began a construction project on River Road on Aug. 5 to improve both pedestrian and vehicular safety between Pyle Road and Braeburn Parkway.
The safety of that section of River Road, MD Route 190, has been the subject of discussion between community members, Montgomery County and the State Department of Transportation for years, according to community member Richard Boltuck, but reached a crescendo in 2016 when an automobile crash resulted in multiple fatalities.
In February 2016, a Whitman student and his parents, three members of the Buarque De Macedo family, were killed while making a left turn off River Road onto Braeburn Parkway. They were on their way to a play at Whitman High School.
Following the fatal collision at River Road and Pyle Road on that Saturday night , Feb. 27, 2016, an online petition garnered more than 3,000 signatures called for a traffic light at that intersection.
Temporary markers, separating turn lanes were installed at the intersection but many community members wanted more. In June of that year they met to urge the State Highway Administration to create a plan for changes at the Braeburn Parkway intersection and the pedestrian crosswalk nearby at River and Pyle roads.
Local officials joined in the call for safety improvements.
In March 2016, the County Council, County Executive Ike Leggett, U.S. Rep. Chris Van Hollen (D-8) and four members of the General Assembly — state Sen. Susan Lee and state Delegates William (Bill) Frick, Arianna Kelly and Mark Korman — sent a letter to the administrator of the Maryland State Highway Administration asking for a review of safety issues at the intersection of River Road (Maryland 190) and Pyle Road/Braeburn Parkway in Bethesda.
In the letter, the elected officials wrote: "As representatives of the area at the state and county levels, we believe that traffic and pedestrian safety issues at this intersection must be more comprehensively addressed ..."
In April 2018, another community meeting was held to discuss changes proposed by the State Highway Administration.
Almost 200 people attended.
"The SHA had legal authority to do what they want," Richard Boltuck, a Bethesda, said at the time. "SHA does care about [public input]."
The State is now putting its concern into action with a $1.9 million roadway safety improvement project on River Road between Braeburn Parkway and Pyle Road, three-tenths of a mile along River Road. The project is scheduled for completion in Spring 2021.
Three new traffic lights will be installed along that section of the road, including two pedestrian-activated, full-color traffic signals on eastbound and westbound River Road in the vicinity of Pyle Road. That is a section where many students cross the road on their way to and from Whitman. Those signals will remain green unless a pedestrian presses the button to cross, and will include accessible pedestrian countdown equipment.
Other improvements include installation of concrete channelized islands to prohibit through and left-turn movements from Braeburn Parkway onto River Road, relocation of the pedestrian crossing on westbound River Road putting pedestrians closer to Whitman High School.
Construction also includes a new Americans with Disabilities Act (ADA) compliant sidewalk connection to the existing sidewalk adjacent to the school's athletic fields.

"We're all very grateful this is happening," Boltuck said.
Drivers are advised that they may encounter traffic delays on River Road during construction.
"To perform all phases of work, crews will use temporary single-lane closures weekdays from 9 a.m.-3 p.m. and multiple-lane closures overnight from 9 p.m.-5 a.m.," according to a SHA press release.