To the county planners, the Engleside Trailer Park is an opportunity for redevelopment that would bring a needed boost to this section of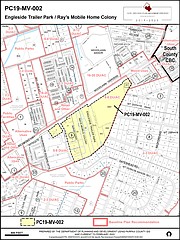 Richmond Highway and be in harmony with Embark Richmond Highway project that is slowly coming to fruition. To the residents of Engleside Trailer Park, it is home. Residents got a small group together to discuss the plan, via Zoom, with county planners at a recent Site-Specific Plan Amendment Process meeting.
"These are homes, not just trailers," said one Engleside resident.
A handful gathered in a room and communicated with the planners via Zoom, and were represented by Leah Tenorio, who translated when necessary since many were Spanish speaking residents. Tenorio is the social justice chair at Good Shepherd Catholic Church and works with the Latino community on Route 1.
"These residents were not notified," Tenorio said.
Proposals like this go through the county process, and this proposal has been announced in Supervisor Dan Storck's (D-Mount Vernon) newsletters, social media, Nextdoor and several newspaper articles, Storck's office said. This is the consideration stage, and step two in about a nine-step process, so there will be several more opportunities for residents to be part of the discussion.
The plan, PC19-MV-002 in planner lingo, was to replace the trailer park at a 1:1 ratio with other housing, which could be apartments, the planners said. Engleside is being looked at along with Ray's Mobile Colony, which is next door.
According to the proposal, the illustrative concept plan depicts possible redevelopment options to include mid-rise multifamily, retail and office uses along Richmond Highway, and stacked towns in the southern portion of the site, with green buffer/open space as a transition to the neighborhoods to the south.
The plan anticipates completion of a full movement intersection at Richmond Highway and Frye Road. It sounds more expensive than living in a trailer park, and the attendees were worried about being priced out of this location.
The Site-Specific Plan Amendment Process is an opportunity to participate in Fairfax County's land use planning process by submitting proposals to amend the Area Plan volumes of the Comprehensive Plan and/or the Comprehensive Land Use Plan Map through the Plan Amendment Work, county information stated.
In the end, the land use committee thought it was necessary to delay the process so the residents in Engleside and Ray's trailer parks can submit their comments to coincide with the county process. This will require translations in some cases.
Other Planning Parcels
Other areas that were looked at during the meeting included the Beacon Hill Apartments off South Kings Highway. The height of the proposed buildings was a point of discussion for this 37-acre site. A potential Metro stop is part of this plan, though it's a long way off in the future. The staff did not recommend adding this to the plan amendment work program at this time by a vote of 11 to 8.
Another parcel of land that was examined at this meeting was a parcel in Lee District, near the Springfield Interchange, that was looked at for a storage facility. The staff did not recommend moving forward with this either.