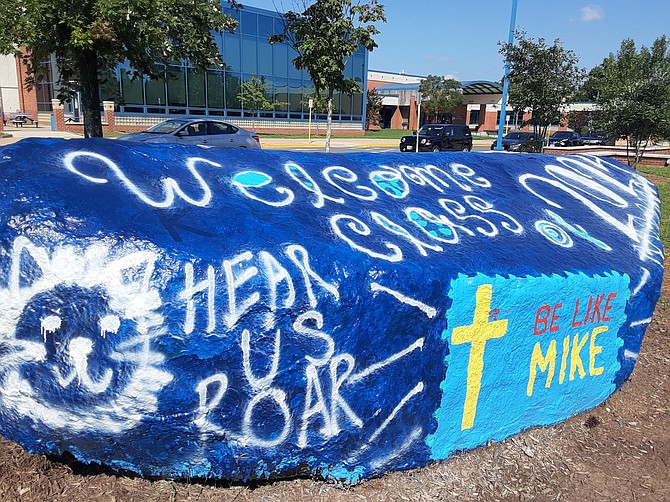 In the final days of August, Khadijah Chapman, 17, went up to West Potomac High School to get some paperwork she needs for a drivers license. The upcoming year is a big question mark due to the pandemic, but it will start with her at home in front of a school-supplied laptop computer.
"All my friends are here, that's what I was hoping to see," she said. There were a few people lingering about, finishing up paperwork as well, but the doors were shut and the only way to reach anyone was the door intercom. Chapman practiced social distancing all summer, and communicated with friends "on social media, we text each other," she said. This fall will be more of the same.
Starting Sept. 8, the online classes will begin at FCPS and continue through into the unforeseeable future. Like all the other school systems in this region, Fairfax County Public Schools started the online classes with the quarantine that was implemented in early spring. It started with a few problems but they've had all summer to work them out.
Most of the high school students, like Chapman, still have their laptops from last year, but the county has stocked up for middle and elementary schools in the last few weeks. FCPS recently bought 32,000 laptops for the middle schools and 22,000 laptops for the elementary schools. According to Lucy Caldwell, FCPS public information officer, all of the new laptops have been delivered to schools and are being formatted for the coming lessons. They started distributing the laptops on Aug. 17 and will continue through Sept. 8. Key items of focus by FCPS include professional development on delivering engaging instruction, building relationships and ensuring fluency in technology, according to the website.
The FCPS has started a family workshop called "Survive and Thrive with Virtual Learning," which will be hosted by the Parent Resource Center. Anyone can log on and follow the recommendations to learn how to enhance home classes.
Tips for online learning success offers ideas to make this type of virtual learning work. For example, the computer should be placed on a level surface, and even though they are known as "laptops" they should not be on the student's laps. There is also a technology troubleshooting guide, with call-in numbers for help in eight different languages.
Team Wolverine
All this is new territory for the school staff, and at West Potomac, the teamwork is proving to be a success. "Everybody is working together, it's a huge task but everything is going pretty smoothly," said Lori Desantes, the assistant to the principal at West Potomac, where the office is staffed from 9 a.m.-3 p.m. on weekdays.
Sally Murphy, the West Potomac PTSA President, is facing the distance learning challenge with her student too. She said the PTSA is closely working with Principal Tangy Millard and Director of Student Services Kevin McMahon, "to determine how we can best support our students, teachers, and school community this year in every learning scenario," she said. One of the ways is a plan to run a PPE supply donation effort. "Details will be out soon," she said.
FCPS is conducting virtual orientations at schools, and these are coordinated by individual schools. The student orientations, back-to-school-nights, meetings and conferences are all anticipated to be held online for the time being, said Caldwell. And there is an "online etiquette," policy to be followed by the students. As in the many computers used to work from home in the business world, the school system will be monitoring the whole process.
Lunch Time and Football
Even breakfast and lunch time hasn't been forgotten by FCPS. They started distributing grab & go meals in March and these will continue to be provided to those that need them. Since March 14 when the program started, FCPS has served more than 2,200,000 meals, Caldwell said.
In the Mount Vernon area, meals are being distributed from 10 a.m. to 1 p.m. at Bucknell Elementary School, Hybla Valley Elementary School, Hollin Hills Elementary School and Mount Vernon Woods Elementary School.
As far as getting the West Potomac Wolverine football team back on the field, they fall under a schedule the school system calls "Model 3." The Virginia High School League Executive Committee met in special session on July 27, and voted to move forward with Model 3 until possibly re-opening of sports and activities for the 2020-21 school year on Dec. 14. Under Model 3, FCPS winter sports will start first, then fall sports such as football, and then spring sports which will go until the end of the year. Marching band is postponed to when the students are able to return.
Model 3 – Condensed Interscholastic Plan:
Season 1 (Winter) Dec. 14 to Feb. 20 (First Contest Date–Dec. 28): Basketball, Gymnastics, Indoor Track, Swim/Dive, Wrestling.
Season 2 (Fall) Feb. 15 to May 1 (First Contest Date–March 1): Cheer, Cross Country, Field Hockey, Football, Golf, Volleyball.
Season 3 (Spring) April 12 to June 26 (First Contest Date–April 26): Baseball, Lacrosse, Soccer, Softball, Tennis, Track and Field.