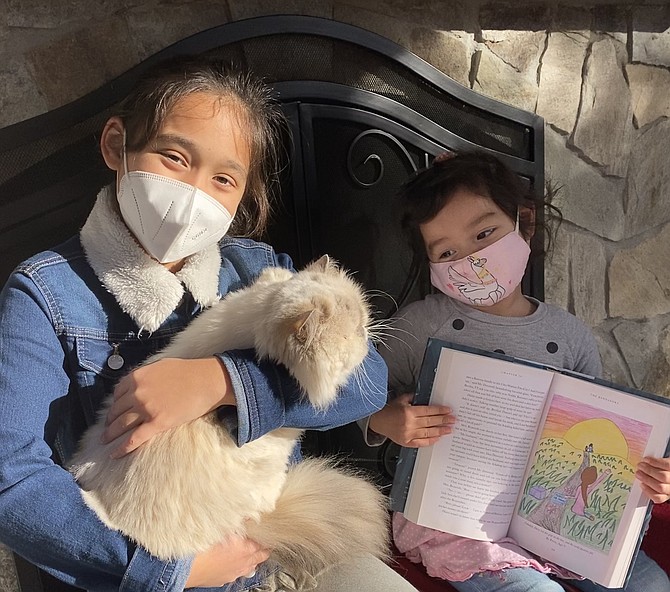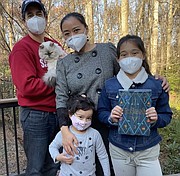 A full-color illustration by award-winning young artist, Petra Demas, 10, of Great Falls is published in the print versions of J.K. Rowling's newly released book, "The Ickabog." Petra's hand-drawn crayoned illustration is one of only 34 drawings that a judging panel selected as winners from 42,000 themed illustrations by children ages 7-12 from across the United States and Canada. Parents and guardians submitted artwork images online to The Ickabog Illustration Competition. Rowling did not participate in the judging process. Demas, a fourth-grader at Forestville Elementary School in Great Falls, heard about the competition from her mother, Alice Lin Demas who recalled that when she told her daughter judges selected her illustration, Petra happened to be on the ice at a local rink. "Petra jumped up and down on her skates," Demas said.
UPON LEARNING of Petra's win, her teachers at Forestville Elementary School in Great Falls quickly responded. Tony Washington, Principal, said, "Forestville Elementary is so proud of Petra for being recognized by J.K. Rowling - way to go." Renee Riddell, Art Teacher, added, "Petra has so much creativity and imagination. Watching her artwork come to life is exciting!"
Rowling wrote "The Ickabog" ten years ago as a personal bedtime story for her young children. When the COVID-19 lockdown happened, she decided to pull the story out of her attic and publish it in a free, online serialization to help entertain children, parents, and caretakers. "I also thought how wonderful it would be if children on lockdown illustrated the story for me, and so we launched the Ickabog illustration competition," said Rowling on https://theickabog.com/en-us/home/.
"What an honor that her art will be seen by millions! I'm so grateful Petra found a creative outlet during quarantine, and that her talent was recognized by J.K. Rowling, an author loved by so many," said Alysha Akbar, Petra's Fourth Grade Teacher.
A new installment of "The Ickabog" was posted weekdays, May 26 through July 10, and with it, the author announced each day's illustration theme based on presented chapters. Petra said, "The judges were looking for creativity, imagination, and pictures that told the story." Petra believed that the judges selected her artwork because it projected a lot of "feelings and emotions." As for her crayoned color scheme, Petra said, "I chose the colors because they were bright and showed how sad Daisy was."
In Petra's congratulatory letter, Emily Clement, Executive Editor at Scholastic, wrote, "Your illustration of the fallen pastries in Chapter 24 is a wonderful interpretation of this scene. We love your use of vibrant color to create a stunning sunset, at a point in the story when we as readers wonder if perhaps the sun has set on Bert and Daisy's friendship as well. We're so pleased and proud to have featured this illustration in the book."
J.K. Rowling is donating her net royalties from "The Ickabog" to help support vulnerable groups who've been particularly impacted by Covid-19 in the United Kingdom and internationally. Petra received a signed copy of Rowling's book, and sponsor Scholastic will donate $650 worth of books to the school or library of Petra's choice. "I want the books donated to my school, Forestville Elementary. They are probably going to get there in three to six week," she said. Petra added that she would not be able to go into her school more than likely when the books arrived because of COVID. Petra is a virtual learner in the Fairfax County School system. "(When I go in) I'll probably feel proud of myself," she said.
Margaret Bylund, Forestville ES Librarian, said, "Everyone at Forestville is so proud of Petra's achievements and the recognition by J.K. Rowling! The library is especially grateful for the book donation for all of the school to enjoy."
FOR PARENTS, Alice and Reagan, pride runs deep, and they wanted their daughter to know. "No wonder your favorite character in 'The Ickabog' is Daisy. She is brave, kind, and compassionate, just like you. I'm so proud of you, Petra!" – Mom
"Petra, your creativity and passion for art never ceases to amaze me, and I'm thrilled that you can share it with so many people. Love you always and forever!" – Dad
For more information about Rowling's newest release, visit Meet The Ickabog!.
This is not the first art win and publication for Petra. According to her mother, Petra recently won second prize for the 2020 Endangered Animals Young Artist Competition sponsored by Art4Apes in Florida. Her drawing was selected out of more than 400 submissions from young artists worldwide at  WINNERS - YOUNG ARTIST — Art4Apes   Petra also created an endangered animal coloring book to raise awareness and money for the World Wildlife Fund. It is available in paperback on Amazon Masters of Camouflage and Endangered Animals by Petra Damas  and Etsy for digital download Digital Download Masters of Camouflage by Petra Demas.