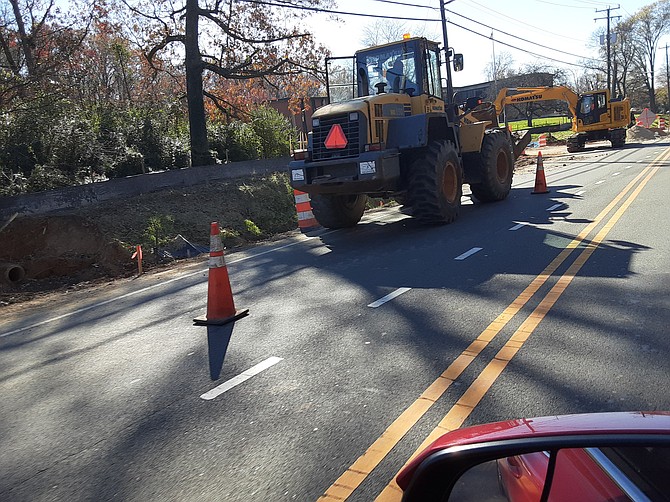 A ground clearing operation is underway along Telegraph Road in Alexandria for a pedestrian connection project linking the intersection of South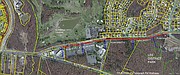 Kings Highway to Lee District Park in the Rose Hill area.
This project will construct 2,670 feet of sidewalk along the south side of Telegraph Road from 500 feet north of S. Kings Highway to Lee District Park. The project will also widen the road and install curb and gutter, storm drainage pipe and a retaining wall. The construction schedule is slated to run from October 2020 to Summer 2021.
The walkway project is on the opposite side of the Greendale Golf Course per coordination with Lee District Supervisor's office at the time when Jeff McKay was the District Supervisor. according to Robin P. Geiger, Head of Communications at the Fairfax County Department of Transportation. This project will include a turn lane and it is one of several along Telegraph Road to keep things moving.
There is another project planned on Telegraph Road about two miles south of South Kings Highway at the Hayfield Road intersection that will add a second northbound through lane on Telegraph Road to a spot just north of the Coast Guard Station. This project aims to reduce congestion and improve safety and operations in the area of Telegraph Road and Hayfield Road, VDOT says.
In the pre-pandemic schedule that was on the VDOT website, the meetings on this $3 million project were supposed to be held last summer. Construction was originally supposed to start in the fall 2022, and be completed the next year.
A few years ago, another lane was added in the Fort Belvoir area when Jeff Todd Way was put in, and this was financed with federal money because it was part of the Base Realignment and Closure program. At the same time, the Telegraph Road intersection with Huntington Avenue was rebuilt, adding lanes and ramps to handle more traffic. Then the intersection of Telegraph Road and South Kings Highway was rebuilt, relieving a rush-hour bottleneck in 2013.
These spot improvements are all part of the traffic flow upgrades on this north-south corridor that sees much traffic from the subdivisions along this road.