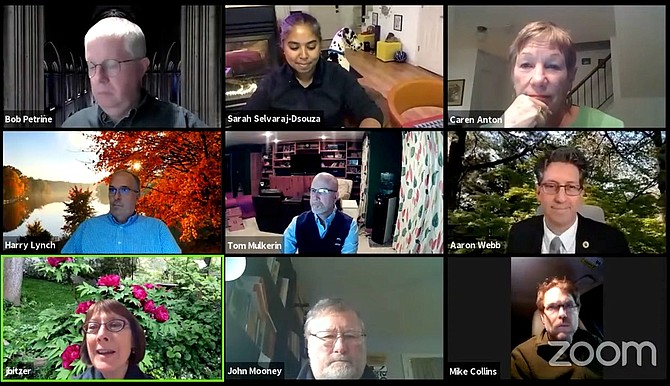 Anyone who has met Doug Britt of Reston knows he has a wealth of information on the creepy, crawly, slimy, majestic, utterly beautiful creatures, insects, and flora that call Reston home. Britt, and the RASER (Reston Association State of the Environment Report) 2020 team, have traipsed nearly every area of Reston's 17.4 square miles in its humid subtropical climate. Britt knows the fastest vertebrate on the planet Earth lives, where else but in Reston, actually Reston Town Center, and it hunts Reston-wide. He can rattle off the names of more than 30 species of mammals seen in Reston, along with 1,588 insect species and 141 arachnids. Those are spiders, daddy longlegs, mites, ticks, and more. Britt is a tad partial to each of the ten species of crustaceans, seven millipedes, and three worms that live the low life in Reston. Love mosquitos? Check out English ivy, according to Britt. They love it too.
Why in the world would anybody want to know all this? Britt is a Virginia Master Naturalist and chair of the Reston Association's Environmental Advisory Committee. He said many Restonians surveyed indicated that Reston's natural environment is one reason they chose to live here. "So, it behooves us to understand what threats and challenges our environmental attributes are facing today so that we can better take actions to protect and improve the situation where needed (for tomorrow)," he said.
On Thursday, Dec. 17, Britt will update the state of Reston's environment at the regular board meeting to be held virtually on Zoom at 6:30 p.m. "RASER provides a current look at Reston's natural environment and informs residents about needed improvements," said Karen Sughrue of Reston.
Restonians may be all Zoomed-up and Zoomed out, but Britt's RASER presentation may prove to be the most riveting meeting tuned to this year. Think dinner-theatre in the comforts of home with pretty, colorful pictures, cool facts, and weird and wonderful Reston wrapped up in an engaging format. "It's fascinating to learn about the natural world around us and RASER describes our environment," said Claudia Thompson-Deahl of Reston.
Members interested in participating via Zoom can join at https://www.zoom.us/ and enter Meeting ID: 916 7892 2234, Passcode: 370220. The presentation can also be viewed on RA's YouTube channel, said Mike Leone, Director of Communications, Marketing & Member Services at Reston Association. "Are any Reston environmental attributes in good shape? Yep. Learn which at the RASER briefing," said Robin Duska of Reston.
Britt, along with members of RA's Environmental Advisory Committee, first unveiled the annual environmental study in 2017. It was called the RASER (Reston Annual State of the Environment Report), and the initial report covered everything from natural resource maintenance to the health of wildlife. The nine-member RASER working group spent more than 1,000 combined volunteer hours compiling data, summarizing it into an accessible document that could be revised and expanded to meet future challenges.
"One example would be that single use plastic is a big problem. It makes up 60 percent of our litter and based on the statistics... and calculating for just the Reston community suggests that Reston uses about 19 million plastic bags per year. "We found that every time we produce this report., RASER, we find more information on the subject. So, our learning curve increases each time. And I think we've found a lot more that we didn't know about our community, said Britt.