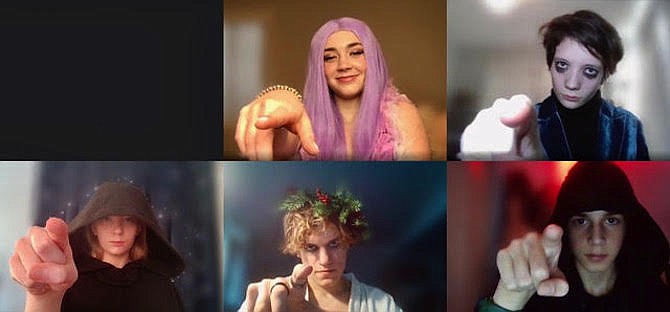 South Lakes High School (SLHS) Theatre Arts recently presented the holiday classic, A Christmas Carol, virtually on Dec. 5 and 6, 2020. The production was directed by Eva Forman who was assisted by Music Director Rita Gigliotti and Video Editor Harrison DeWolfe. SLHS was one of just a few Fairfax County high schools presenting a full-length virtual fall play this year. The cast and crew of 48 students performed four full-length live virtual productions at both the matinee and evening hours on Saturday and Sunday. The play was adapted by Russ Staggs.
The classic tale of A Christmas Carol features Scrooge (Delia Hartman), a bitter and greedy man who is uncaring to others, including his only living relative Fred (Jonah Kossoy), on Christmas Eve. On this special Christmas Eve, Scrooge is visited by the ghost of his old business partner, Jacob Marley (Elizabeth Ashby), who warns him that three spirits will visit him and teach him the error of his ways. Marley tells Scrooge that he will be doomed the same fate that Marley faced if he does not change.
The Ghost of Christmas Past (Maya Berry) shows Scrooge Christmases from his past, taking Scrooge through memories of his unhappy childhood and losing the love of his life due to greed. The Ghost of Christmas Present (Aaron MacDonald) shows Scrooge his clerk, Bob Cratchit (Kiran Drew), and Cratchit's family (Abigail Jamison, Abby Wyland, Hannah Donnis, Katelyn Mehlenbeck, Alina Cook, Sabeen Mir, and Josh Lewis). The Ghost then takes him to see his nephew Fred's Christmas celebrations which he had refused to attend earlier that night.
Finally, the Ghost of Christmas Future (Elizabeth Ashby, Josh Lewis, Lilah Skoy) haunts Scrooge by showing him visions of what will come if he cannot change. After this nightmare, Scrooge awakes on Christmas Day a changed man. He is full of excitement and a determination to be kind to his family, charitable to those in need, and embrace his new life.