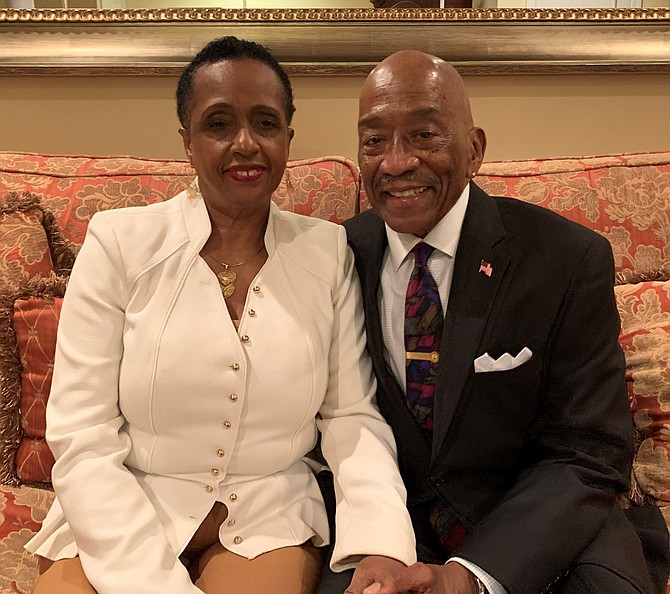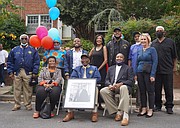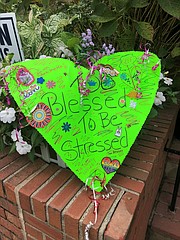 Jim Henson was a man-about-town, known for his dapper dressing, infectious smile and engaging personality. But most notably he was known for the five words he uttered each time he greeted friends and strangers alike. To anyone who asked, Henson was always "too blessed to be stressed."
That signature phrase never left Henson, even after he was diagnosed with Stage IV lung cancer in September. His zest for life never dimmed, as evidenced by his enthusiastic greeting of well-wishers during a walk-by parade held in his honor Sept. 27.
"This is a wonderful outpouring of friendship and camaraderie," Henson said that day. "It means a lot to me."
That parade was organized by the Departmental Progressive Club, where Henson was a member, officer and board member since he first joined the organization in 1967.
"There are so many things I will miss about Jim," said Departmental Progressive Club president Merrick Malone. "We shared a love of history, of music, of sports history. But also a love of the DPC and its historical significance to the city. No one was looking forward to the club's 100th anniversary more than Jim. The best thing we can do to honor him is to keep this club and what it represents alive."
James E. Henson was born Oct. 23, 1936, to Catherine Henson and Clarence McGuire at the Alexandria Hospital. "The old one on South Washington Street," Henson would say proudly.
Raised in a single parent household, Henson joined the Air Force at the age of 17 and remained there for 20 years. He served in Vietnam and was awarded a Bronze Star for Merit in 1970. Henson served in the distinguished 89th Military Airlift Wing at Andrews Air Force Base.
After completing his military service, Henson earned a law degree from the University of Maryland and became a civil rights lawyer. He practiced law for 38 years, becoming the first African American Human Rights Administrator for the Howard County Executive and focused on eliminating discriminatory employment and housing laws.
In addition to the DPC, Henson joined the Jaycees in 1967 and served on its board of directors. Through the Jaycees he helped found the city's Dribble and Shoot competition for boys that was eventually adopted on a national level in 1969.
Henson continued his interest in helping youth through his mentorship of minority boys at Lyles-Crouch Traditional Academy. He was also a founder of the Parker-Gray Alumni Association, whose mission is to provide scholarships for family members of Parker-Gray alumni.
From 2009-2013 Henson chaired the Charles Houston Ad Hoc Naming Committee to name the Charles Houston gym the Louis Johnson/Morris Siebert Gymnasium after two influential individuals in the African American community during segregation.
In 2013, Henson collaborated with noted genealogist and author Char McCargo Bah on the book "African Americans of Alexandria: Beacons of Light in the 20th Century."
"Mr. Henson took one of my genealogical classes in the 1990s," said Bah. "He was eager to learn more about his family so he could write a book about his great uncle, Matthew Henson, the North Pole explorer. From that moment, he became a genealogist friend and he became my mentor."
Bah and Henson formed a writer's subcommittee group in which Henson was chair. That group produced the 2013 book on prominent African Americans in Alexandria.
"Mr. Henson is connected to the Alexandria Contraband and Freedmen Cemetery," Bah added. "His paternal family members migrated to Alexandria during the Civil War. Many of his family members were buried at the Freedmen Cemetery and the names of his relatives are on the memorial wall there."
In 2019, Henson was selected as a Living Legend of Alexandria.
"Mr. Henson was excited about the nomination," Bah added. "For him, that accomplishment connected to the dream he had as a little boy – to make his mother proud by achieving great things. To become a Living Legend, a descendant of the Freedmen Cemetery and an author have made his ancestors proud. Unique people like Mr. Henson are never forgotten. They will live on forever."
Survivors include his wife of 44 years, Elsie, who he married Dec. 23, 1976; and children Deborah Henson, Valerie Henson-Ford, James E. Henson Jr., Sharon Henson, Kayla Henson and Nicole Walker.
Visitation will be held Jan. 7, 2021, at Greene Funeral Home, 814 Franklin St., from 2-8 p.m. A private funeral will be held the following day. In lieu of flowers, donations may be made to the Departmental Progressive Club Scholarship Fund, 411 Gibbon St., Alexandria, VA 22314.
"Jim always believed in the value the DPC adds to the community," Malone said. "We owe it to him to dedicate ourselves to make sure the Departmental Progressive Club is there for future generations."