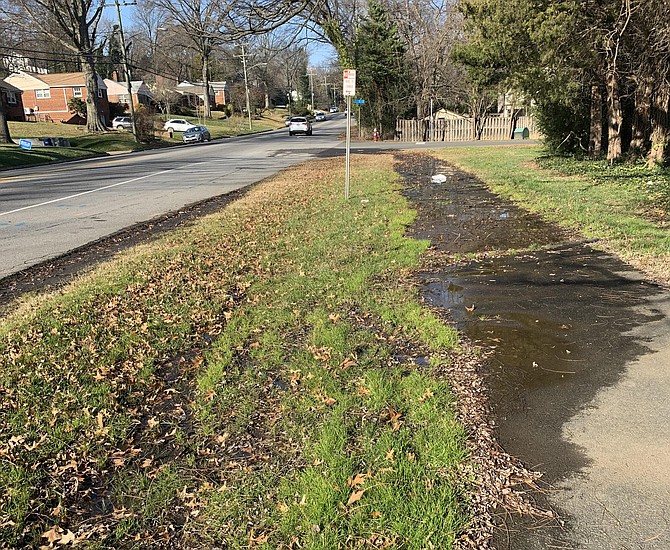 With the Potomac River a few hundred yards away, residents of Fort Hunt are seeing ground water seeping up, running down the sidewalks and low-lying street areas. To cope with this situation while still getting a breath of fresh air, a pair of waterproof walking shoes might be a quick answer.
Sea level rise will increase flooding in many regions. Does that include areas on the rivers and bays, such as Mount Vernon? Local inundation maps from the National Weather Service show the extent and depth of a freshwater flood on the Potomac River from near Fletcher's Cove in Northwest D.C. to just above the mouth of Broad Creek in Prince George's County, Md., a distance of approximately 14 miles, including Alexandria and Mount Vernon. Potential backwater flooding of tributaries by the Potomac is also represented within this reach, including on Cameron Run, Oxon Run, Four Mile Run, and the Anacostia River. https://www.weather.gov/lwx/potomacinundationmaps
At the corner of Fort Hunt Road and I Street, the standing water at the corner persists. "Has been getting my walking shoes wet for more than a year and seems to be getting bigger," said Helen Walutes, a resident of the area who has been walking in the neighborhood for years.
According to NASA Global Climate Change website, sea level rise is caused primarily by two factors related to global warming: the added water from melting ice sheets and glaciers and the expansion of seawater as it warms. One graph they use cites sea level rising by 3.3 millimeters per year, which would lead to increases in water level for all bodies of water, including the Potomac River.
NASA says 2016 was the warmest year on record, where the planet's average surface temperature has risen about 2.05 degrees Fahrenheit (1.14 degrees Celsius) since the late 19th century, a change driven largely by increased carbon dioxide and other human-made emissions into the atmosphere. Most of the warming occurred in the past 40 years, with the six warmest years on record taking place since 2014. Eight months out of that year — from January through September, with the exception of June — were the warmest on record for those respective months.
In October, the County and School Boards' Joint Environmental Task Force (JET) submitted a list of recommendations for consideration by the Fairfax County Board of Supervisors and Fairfax County Public Schools Board to slow the impacts of global warming. Both Boards accepted the JET report and directed their respective staffs to develop an action plan based on these recommendations for consideration by the Boards in spring 2021.